Justin Timberlake Tells A Potty-Training Story Every Parent Can Relate To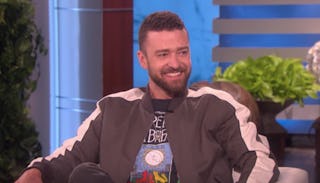 Image via YouTube/The Ellen Show
Justin Timberlake tells Ellen all about the realities of potty training
Justin Timberlake is the man of our teenage (and adult) dreams and also, dad to toddler son Silas. That means that even though he's a glamorous celebrity, he's still not immune to the nasty things that come along with being a parent. During a recent appearance on The Ellen Show, Timberlake shared a gross, yet, relatable story that basically everyone who's potty trained their child will find familiar.
Timberlake was on the show with his 'NSYNC bandmates and took time to play a little game of "Never Have I Ever" with host Ellen DeGeneres. It resulted in the pop star revealing a hilarious tale involving his son's recent potty training efforts.
"He's a big boy now, which he will be happy to tell you," Timberlake tells DeGeneres. "We're getting really well down the line with the pee-peeing on the potty thing, but at nighttime we give him a diaper."
He shares that although three-year-old Silas sleeps in his own bed, he's now big enough to escape and "sneak" into the room Timberlake shares with wife Jessica Biel. Because of course. What would parenting be without a tiny human occasionally visiting your bed in the early hours of the morning? "It's very, very sweet, and I was very, very tired," he says. Basically the story of living with a toddler.
Timberlake crashed around 2am and his little guy came running in at 6:45, naturally. And that's when he felt his son's hand on his face. His very wet hand.
Been there, bud.
"And so I feel the hand and he comes in and he hugs me, and right on my back I'm like, 'That's really wet,'" he says. "I was like 'hey man…good morning.'"
A good morning indeed. Nothing like pee hands to snap you out of sleep in a hurry.
Of course, the singer sharing this story isn't surprising. Timberlake and Biel are pretty open about the struggles of parenting, which are very real for all of us, no matter how rich and famous. You may end up eating and using your phone in the shower just to grab a free moment, as Biel recently demonstrated.
And there will definitely be "slack-jawed" car naps.
But like the rest of us, they wouldn't trade it for the world.
"Anybody who's a parent out there knows that it's like you've never been more excited to be peed on," Timberlake says.
Nailed it.