Justin Trudeau's Wife Tested Positive For The Coronavirus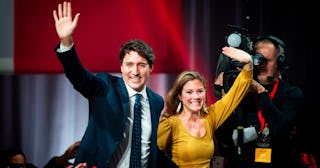 SEBASTIEN ST-JEAN/Getty
Justin Trudeau says his wife, Sophie, is currently experiencing 'mild symptoms' of COVID-19
In a statement released last night, Canadian Prime Minister Justin Trudeau announced that his wife, Sophie, has tested positive for the coronavirus, COVID-19. "Following medical recommendations, Sophie Grégoire Trudeau was tested for COVID-19 today," the statement reads. "The test came back positive."
The prime minister's office said Sophie began "exhibiting mild flu-like symptoms including a low fever" after returning from a speaking engagement in London. After seeking medical advice, she was tested for the virus and that test came back positive. She's currently self-isolating at her home, and the symptoms have since subsided.
The statement also assured everyone that the prime minister is in "good health with no symptoms," is taking the "precautionary measure" of isolating himself for 14 days. Something of note here is that he will not be tested — because he is currently exhibiting no symptoms, and is just quarantining himself as a precaution.
For now, Trudeau's meetings with the public and other world leaders that were previously scheduled for this week have been postponed.
Sophie Trudeau is not the only world-famous person who has become part of the pandemic currently sweeping the globe. Earlier this week, it was announced that Tom Hanks and Rita Wilson were quarantined and being treated for COVID-19 in Australia, where they were working on a film.
https://www.instagram.com/p/B9qBEyjJu4B/?utm_source=ig_embed
"We have Covid-19 and are in isolation so we do not spread it to anyone else," Hanks posted in an update on Instagram last night. "There are those for whom it could lead to a very serious illness. We are taking it one-day-at-a-time. There are things we can all do to get through this by following the advice of experts and taking care of ourselves and each other, no?"
Organizations, businesses, and schools across the country are beginning to work on social distancing while the country tries to collectively prevent the spread of the virus, as much as it's possible to do so.
COVID-19 has officially been declared a pandemic by the World Health Organization. So far, the virus has taken the lives of more than 4,000 people worldwide. Symptoms of the rapidly-spreading disease include coughing, fever and shortness of breath, which may not appear until 14 days after exposure. The median length of time the virus remains in the body of patients is 20 days, with some cases living in the body as long as 37 days.