Juvenile Drops Hilarious Rap PSA 'Vax That Thang Up'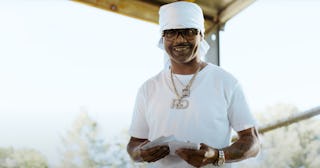 BLK Dating/Youtube
Rapper Juvenile teamed up with a new dating app for Black Singles to drop a vaccine rap anthem
Get ready to party like it's 1999 all over again. The late 90s rap smash "Back That Thang Up" by Juvenile has gotten a pandemic era remix that's going to make you want to twerk on down to your local vaccination site.
Juvenile and fellow rappers Mannie Fresh (whose voice you'll recognize from the original track) and Mia X dropped "Vax That Thang Up," with the help of BLK, a new dating app for Black singles. The partnership makes complete sense when you hear the new (and dare I say improved) lyrics — it's all about getting vaxed just in time for a steamy summer hook up:
"Before you get a date, you gotta wait, yeah
Gotta go vaccinate yeah, get it straight yeah
Girl you look good won't you vax that thang up
You a handsome young brother won't you vax that thang up
Dating in real life, you need to vax that thang up
Feeling freaky all night, you need to vax that thang up"
Each verse is basically funnier than the last, like this gem from Mannie Fresh: "I know you can't stand it, no holding hands chick, but when we get the shot we gon' be romancing. Girl you could be the queen, after quarantine."
Not to be outdone, Mia X offers up the amazing line, "If you wanna smash some dude named Scott, then go, go, go, go get the shot."
The lyrics are *chef's kiss* good, and somehow manage to maintain all the fun of the original bop. Naturally, Twitter went wild for it.
Besides offering up an amazing summer jam, the funny song also serves as an important PSA. Figures released by the Centers for Disease Control and Prevention in late June show that vaccination rates among young adults have lagged behind other age groups. Only about a third of Americans between the ages of 18 and 39 have gotten vaccinated, and the rate drops several points lower when you break it down into just those under 24. The CDC report found that young adults who are Black had the lowest vaccination rates, at about 25%.
About 40% of Black young adults who were surveyed did say they intended to get vaccinated, however, so every little bit of incentive might help with that — including an incredible rap parody. Juvenile told Yahoo! that that was his main motivation in putting out the song: "I just wanted to do something positive for my people and to stand in the front to show that I'm willing to sacrifice my life not just for me but also for my family, We don't know what we're facing right now but we really do all need to be vaccinated so we can continue to do our thing and survive."
This article was originally published on