This Movie Theater Allows You To Bring Your Dog And Has Bottomless Wine
by Julie Scagell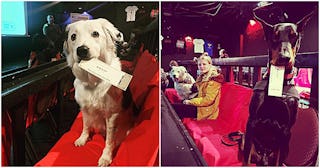 K9 Cinemas
BRB, moving to Texas
If you're a dog owner, odds are you want to be around them as much as possible. You bring them on walks, to dog parks, pet-friendly restaurants and breweries, and on car rides, so they can flap their ears in the wind to their heart's content. Now, there's even a movie theatre that not only lets you bring your dog — they cater to it.
K9 Cinemas in Plano, Texas, allows up to one human per two dogs at all of their screenings. If that's not enough to make you wiggle your butt in excitement here's an added perk for us owners — bottomless wine or four servings of whiskey.
The theatre opened in December and not only offers movie nights (which are all classic, dog-friendly flicks), they also have themed nights like "Karaoke Margarita Night" and "Trivia Night." If that's not enough, according to their website, "in an effort to serve both species, K9 Cinemas offers affordable snacks for both humans and dogs." Did someone say Muttloaf?
Tickets are similar to your run-of-the-mill (and now forever terribly boring) theatres, charging $15 for adults, $10 for kids, and $5 per dog. But do regular theatres offer your choice of free bottomless wine or four servings of whiskey in their pricing? No, not they do not.
The space has comfy couches for you and your fur baby to chillax and a large concrete area up front if your pooch wants to mingle during the film. The best part (besides the bottomless wine) is that you never know what movie you're going to see — the owners announce a dog-themed movie that day so it's always a fun surprise if you're into that sort of thing.
To make sure everyone's safe and healthy, the theatre requires your dog is up-to-date on all their shots and lets you upload your veterinary records online on their website or bring a copy of your dog's records to the box office. Dogs are also required to be leashed unless they are playing in designated areas.
The theatre originally started in a semi-permanent location as a pop-up but the locals loved it so much, they quickly moved into a permanent home in Plano, about 30 minutes north of Dallas. It's also the first dog-friendly cinema in the world, according to owner Eric Lankford (and his dog, Bear. Please oh please let this be a trend hitting all major cities by the year 2022.
Humans are obviously responsible for taking their pups out for bathroom breaks and for cleaning up after their pets if they should happen to get excited and pee whilst mid-movie. Though with bottomless wine and up to four glasses of whiskey, I'm betting the adults will be the ones needing cleaning up after.
K9 Cinemas also sell adorable merch and $5 from every T-shirt sale goes towards a local animal shelter. Seriously, just when you thought this couldn't get any better.