Colin Kaepernick's Mom Claps Back At Trump's Criticism Of Her Son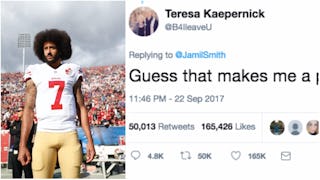 Michael Zagaris /Getty/Twitter
In the ultimate mom move, she embraced the President's insult to support her son
Over the weekend, Trump went on a Twitter spree spreading vitriol for the NFL, openly criticizing players for taking a knee during the national anthem. But the league's players, owners, and even family members, are not backing down.
The debate over players kneeling was sparked last season by former San Francisco 49ers quarterback Colin Kaepernick, who began taking a knee rather than standing during the Star-spangled Banner, to protest the country's treatment of Africa-Americans and police brutality. Trump, like many Americans, takes offense to the protest, viewing it was disrespectful to the American Flag.
On Friday night, while speaking at a rally in Alabama, President Trump made his opinion clear.
"Wouldn't you love to see one of these NFL owners, when somebody disrespects our flag, to say, 'Get that son of a bitch off the field right now. Out. He's fired! He's fired!'" the President said from the podium, according to ESPN.
His comments generated a lot of response, none more succinct than the one from Colin Kaepernick's own mother, who responded in the best possible way a mom could ever respond:
By embracing the president's "son of a bitch" insult, Kaepernick's mom made it clear that she supports her son. In an interview with Deadspin, she explained her reaction to Trump's insult.
"I have four sisters and said, 'You're not gonna believe this. The president just called me a bitch,' and they went into one and we just laughed about it," she said. "As a mom you're protective of your kid. I grant you he's a 29-year-old man, he doesn't need my protection, but boy, somebody insults somebody you love, and your first instinct is to really wanna just go after him."
Because she's a mom. And that's what moms do.
"It's like a bully on a playground, I guess. It's almost what I've come to expect from [President Trump] and what most of us have come to expect from him…We are all just sitting back seeing what's gonna happen in this country. There's not much we can really do," she said.
After Trump's remarks, several owners, including John Mara and Steve Tisch of the New York Giants and Miami Dolphins owner Steve Ross, spoke out against the president's "divisive" remarks, and NFL Commissioner Roger Goodell released a statement supporting the league's players.
Trump continued his attack on Twitter, of course, suggesting team owners fire any players who protest the anthem.
Trump also took a shot at the NFL's supposedly "massively, massively" falling ratings, failing to realize that his attacks on the league will do nothing except increase viewership, as fans and non-fans everywhere watch the games this Sunday to see how the players respond.
One thing is for sure: no one can top Kaepernick's mom's response.
This article was originally published on