This 'Food Critic' Has The Entire Internet In Stitches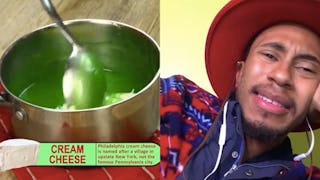 Image via Facebook/Ellen DeGeneres
It is impossible not to laugh while watching his hilarious reactions to crazy recipes
If you've ever watched those addicting recipe videos, then you know there are some seriously crazy concoctions out there. From overly elaborate holiday drink recipes to over-the-top food combinations, there's no limit to what "foodies" will make and share. Enter Kalen Allen, your new favorite "food critic."
Allen is a popular internet personality who shares videos of himself critiquing crazy recipes, and he is utterly delightful. Especially when it comes to classic foods that just don't need to be messed with, like cornbread or mac and cheese. He's so insanely funny that Ellen DeGeneres and her team took notice of his "Kalen Reacts" series of videos and shared one of his videos to their page.
ENJOY.
"That looks like some phlegm up in somebody's throat," he says while watching a video that jumbles ingredients like lime Jell-O, cream cheese, 7-Up, and MAYONNAISE into a pukey–looking bundt cake. Look, he's not wrong. I wouldn't feed that shit to my dog, let alone pass it off as some delicious potluck dish.
This cornbread video is my personal fave. "Oh hell no y'all didn't. What in the world is this mess?" he asks as they toss in maple syrup and bacon bits and actual canned corn into the mix. Allen dismisses the use of salt and pepper as "the only seasonings" white people use, and calls it "gentrified cornbread." It's just so perfect. "I rebuke this in the name of Jesus!"
You will honestly cry from laughing.
"Is that a whole-ass chicken? With the head still attached?!" Whatever this raw chicken/pumpkin/mushroom concoction is, you can keep it.
That potato salad/hot dog "cake" is what nightmares are made of. "Absolutely not," Allen says. "You could not pay me to eat this shit right here."
Allen has gained plenty of internet traction, with celebrities like Seth Rogen, Jesse Williams, Stranger Things star David Harbour, and Chrissy Teigen all offering shout-outs to his videos on Twitter.
His commentary is downright charming, and his reactions are so genuine. Allen, who's majoring in theater and film at Temple University, has his own YouTube channel that features plenty of "Kalen Reacts" videos along with his own recipes for foods.
Seems like Ellen DeGeneres agrees Allen is amazing, so she's invited him onto her show to share more of his brilliant commentary with the world. We cannot WAIT.