Kaley Cuoco Wore A Lace Jumpsuit To Her Wedding That Will Make You Forget Dresses Exist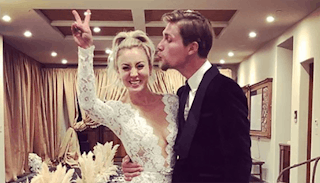 Image via Instagram/norman cook
Kaley Cuoco's reception jumpsuit is the stuff fashion dreams are made of
Kaley Cuoco married her boyfriend of two years, Karl Cook, in a beautiful ceremony yesterday evening — and while that's all well and good, we need to talk about her wedding jumpsuit. Because it was so fabulous, it'll make you want to cancel wedding dresses forever.
Cook, a professional equestrian, and Cuoco were married near a horse stable in San Diego. Their wedding hashtag, #kcsquared, is full of beautiful photos of the couple and the gorgeous ceremony.
But whislt scrolling through said hashtag, it became apparent that as soon as that ceremony was over, Cuoco changed into the lace jumpsuit of our dreams.
Listen, I have only merely entertained the idea of purchasing a jumpsuit a handful of times in my life and while my own body does not, in fact, resemble Kaley Cuoco's in any way — this lace jumpsuit has made me only want to wear jumpsuits for every occasion in my life henceforth.
The wedding gown in itself was lovely — especially with the addition of a floral lace cape.
https://www.instagram.com/p/BksV8ptnzpN/?tagged=kcsquared
BUT THAT JUMPSUIT.
No crazy latex underwear, no constricting corset bra, no itchy slip, no stepping on your train while you're trying to get your groove on. It's perfection.
https://www.instagram.com/p/Bkr_BMugcyh/?tagged=kcsquared
Cuoco and Cook became engaged last fall on her birthday after two years of dating. Cook shared news of the proposal on his Instagram account.
There's a lot to sigh about when it comes to these two, that's for sure. But we'll be sighing about the sheer (literally) perfection of that jumpsuit for eternity.