Kamala Harris Admits She Googled Her Husband Before Their First Date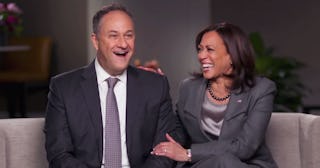 CBS Sunday Morning/Youtube
Kamala Harris once again proves she's just like us — she Googled her husband, Doug Emhoff, before their first blind date
There's truly so much to love about our Vice President-elect, Kamala Harris. She's making history as the first woman VP, the first Black VP, and the first South Asian VP all in one. She also has an incredible record as a politician. But maybe the most relatable thing about her is her relationship with her husband, Doug Emhoff. These two are so in love, it reminds me of the Obama days — it's so good to know there's going to be such a strong family model in the White House once again. And so, when Harris and Emhoff sat down for one of their first joint interviews on CBS Sunday Morning, you bet we listened to every word.
Among many other thing, Harris shared a little bit about the blind date where they met, and revealed a little bit of a secret after host Jane Pauley asked, "You totally Googled him, didn't you?"
Harris responded by bursting into laughter, while Emhoff, seated beside her, seemed intrigued to hear the answer. "Ooh," he said, "this is a reveal!"
Harris finally responded through her laughter, "I've never been asked that. I did!"
With Emhoff looking on with a faked look of shock on his face, Harris added, "Oh, I can't believe you asked me that question. Yes, my best friend set us up on a blind date. She said, 'Just trust me, just trust me.' She wanted me to just kind of go into it and she said, 'Don't Google him!' I did."
Look, all this proves is that Harris, despite being a history-making Vice-President-elect, is just like us. Show me a woman who doesn't Google a blind date before she shows up to dinner, and I'll show you a liar. We all do it. Let's just be open about it.
That's not the only adorable moment that happened during the interview with Harris and Emhoff. Emhoff also revealed that when he was approached by that friend about a blind date with the future VP, he had to have a few drinks to work up the courage to reach out to her. He finally called, and explained, "I left this ridiculous voicemail, which she has saved and plays back to me on our anniversary every year."
Harris jumped in to reassure him, "It was adorable. The thing about Doug is that he is exactly who he is. He's just fully authentic and clear about the things he cares about—and it's family, it's his work…"
"You," Emhoff added.
Truly these two are couple goals.
See more of their CBS Good Morning interview below.
This article was originally published on