Kamala Harris & Doug Emhoff Receive The Moderna COVID-19 Vaccine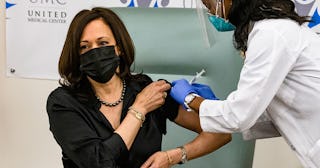 Samuel Corum/Getty
Like Dr. Fauci and President-elect Joe Biden, Harris was vaccinated in a live, broadcast event
Vice President-elect Kamala Harris was vaccinated against the coronavirus this morning in a live event, along with her husband, at the United Medical Center in Washington, DC. We can all breathe a tiny sigh of relief that the people leading our country beginning next month will have protection against the deadly virus that has devastated so many American lives this year.
"I urge everyone, when it is your turn, to get vaccinated. It's about saving your life, the life of your family members, and the life of your community," Harris said after she was administered the first dose of the vaccine.
"I want to remind people that right in your community is where you can take the vaccine, where you will receive the vaccine, by folks you may know," she said. "Folks who are working in the same hospital where your children were born. Folks who are working in the same hospital where an elderly relative received the kind of care they needed."
Watching Harris publicly receive the vaccine and urge others to trust it could have a large impact on communities of color. COVID-19 has affected Black, Indigenous, and Latino populations at a disproportionately higher rate. In an interview on MSNBC last week, Harris acknowledged the wariness toward the vaccine among people of color.
"When we look at, in particular, when we're talking about racial demographics in terms of the impact, Black folks, Latinos, our Indigenous brothers and sisters are so many more times likely to contract COVID and die from it," she said. "I'm going to put as much as I can into helping people trust what the public health experts are telling us [about the vaccine]."
Earlier this month, Dr. Fauci was vaccinated alongside a number of frontline healthcare workers and Health and Human Services Secretary Alex Azar, National Institutes of Health (NIH) Director Francis Collins, and Office of Research Services Director Colleen A. McGowan.
"I consider it an honor to be part of this process," Fauci said after receiving the first dose of two doses. "I feel extreme confidence in the safety and the efficacy of this vaccine, and I want to encourage everyone who has the opportunity to get vaccinated so we can have a veil of protection over this country that would end this pandemic."
Lots of prominent politicians have already publicly received the vaccine, including those who have downplayed the severity of the pandemic for the entirety of 2020: Mike Pence, Lindsey Graham, and Marco Rubio to name a few. Rubio was even kind enough to be blatant in his hypocrisy by not only accepting the vaccine, but slamming Dr. Fauci almost immediately after.
Just eight days after receiving the vaccine himself, and touting its safety and efficacy, Rubio said Fauci "lied about masks in March" and claims he's "been distorting the level of vaccination needed for herd immunity" insinuating that the doctor is just another member of the "elite bubbles" that "believe the American public doesn't know 'what's good for them' so they need to be tricked into 'doing the right thing.'"
Huh. You don't say. And you got the vaccine because? Oh, right, because you're nothing more than a paid actor who knows exactly what to say to rile up your base while also being on the receiving end of the protections your own "elite bubble" affords you. Get f*cked, dude.
Even with the vaccine's rollout, we're a long way from herd immunity and resuming any semblance of "normal" life. Particularly this winter and the first half of 2021, as thousands of Americans die each day from COVID-19.
Please, follow Harris and Dr. Fauci's advice: stay home as much as you can. Wear your masks. Wash your hands. And keep in mind that healthcare workers everywhere are exhausted, overwhelmed, and overworked. And don't listen to bad faith politicians like Marco Rubio, please and thanks.