New Portrait Of Kamala Harris In D.C. Depicts Her Glass Ceiling-Shattering Career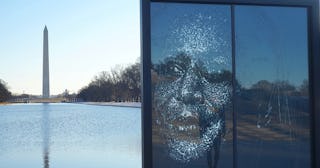 Shannon Finney/Stringer/Getty Images
The shattered glass portrait of Kamala Harris was installed on the National Mall this week
The National Women's History Museum marked Kamala Harris' spot in history as the first Black and Asian American female Vice President by unveiling a remarkable art installation in D.C. The portrait, made of shattered glass, stands at 6 feet tall and 6 feet wide and was placed in front of the Lincoln Memorial on Thursday.
"Representation matters, especially at the ballot box, and the inauguration of Kamala Harris as the first woman, and first woman of color, to serve as vice president of the United States is a landmark moment in American history," National Women's History Museum President Holly Hotchner said in a statement, per ArtNews.
"Today's progress is built on the legacy of the women who came before — the trailblazers, like Kamala, who raised their voices, marched for their rights, and ran for elected office; the women who cracked glass ceilings so that other women could shatter them," Hotchner added.
Reports say Harris is aware of the installation, but the Vice President's office did not make public any plans for her to view it.
Second Gentleman Douglas Emhoff, himself a first to hold that title, did visit the installation on Friday.
"I had to see for myself this new art installation honoring @VP Kamala Harris. It's incredible," he posted on his @secondgentleman Twitter account, adding the hashtag, #glassceilingbreaker.
The installation was commissioned by BBH New York, a creative agency. The firm appointed Swedish artist Simon Berger to bring the vision to life.
The agency picked Berger because he is renowned for his glass work. For inspiration, the artist used a photograph of Harris taken by New York photographer Celeste Soloman. AP reports he hammered laminated glass in order to create the shattered effect that forms the portrait.
"I hit the glass directly with the hammer, so that cracks and impacts occur," Berger told AP in an email. "Hard hits create abstraction and I paint with targeted fine hits."
A short video about the process, set to the Vice President's inauguration speech, shows snippets of the artist creating the work.
Twitter users have been lining up to take pictures in front of the installation to mark Harris' win.
"We just visited this amazing pop-up art installation #glassceilingbreaker honoring @VP at the Lincoln Memorial @NationalMallNPS today! So incredible!" one user wrote.
"Another user snapped a pic of the installation with the Washington Monument in the background. Today the @womenshistory Museum unveiled an incredible portrait of @vp @KamalaHarris made out of shattered glass. Entitled #GlassCeilingBreaker, it's on display at the Lincoln Memorial until Feb. 6," another Twitter user posted.
The portrait appears to have international fans, too. A visitor to the National Mall remarked in German "Sehr cool," which translates to "very cool" in English.
Yes. It is sehr cool.
The installation will remain at the Lincoln Memorial until Saturday night, then will go back to New York. Future public viewings have not been determined.
This article was originally published on