Watch Kamala Harris Being Sworn In As First Female VP And Try Not To Cry
by Cassandra Stone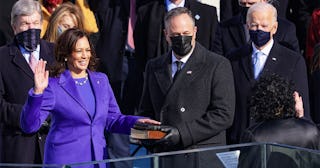 Alex Wong/Getty
Kamala Devi Harris is officially our new Vice President, and her oath was deeply emotional
Madame Vice President is officially her title, thank you very much. Kamala Harris was officially sworn in as the first female, Black, South Asian Vice President of the United States. She was sworn in by Sonia Sotomayor, the first Latina to serve on the Supreme Court.
Doug Emhoff, Harris's husband and the Second Gentleman, held the Bible as she took her oath to serve. Wearing a regal purple overcoat and dress, Vice President Harris swore to uphold the United States Constitution in a ceremony that felt deeply emotional to anyone watching.
Harris' mother, Shyamala Gopalan, was born in India and immigrated to the United States in 1958 to pursue a career in nutrition and endocrinology. Her father, Donald Harris, was born in Jamaica and became a prominent economics professor at Stanford University after immigrating to the U.S. He and Gopalan met at Berkeley, married, had Harris and her sister Maya, and divorced when she was seven years old.
During her election night speech, Harris acknowledged her mother's values.
"When she came here from India at the age of 19, she maybe didn't quite imagine this moment," Harris said. "But she believed so deeply in an America where a moment like this is possible, and so I am thinking about her and about the generations of women, Black women, Asian, white, Latina, Native American women, who throughout our nation's history, who paved the way to tonight, women who fought and sacrificed so much for equality and liberty and justice for all."
The first woman vice president, who is both Black and South Asian, is something that has resonated with voters across the country.
"The way she's approaching the vice presidency is very similar to the way Joe Biden approached the vice presidency with Barack Obama," Harris press secretary Sabrina Singh previously told USA Today. "She's walking into this office as a full governing partner to Joe Biden and is completely aligned and supportive of his priorities."
With the Senate being split down the middle 50-50, Vice President Harris could be a key tie-breaking vote in rolling back many of the Trump-era sanctions and rules.
While she holds the second-highest office in the United States right now, she's also a wife, stepmother, aunt, and sister to a family who clearly loves her dearly.
In his speech immediately following his own swearing-in, President Biden (wow, does it feel good to write that for the first time) acknowledged the historic value of his vice president.
"Don't tell me things can't change," he said, pointing to Harris.
Like Harris acknowledged in her election night speech back in November, she might be the first female vice president, but she won't be the last.
It's an honor to call you Madam Vice President, ma'am. We're so happy you're here, and we can't wait to see what you do.