Dad Films A Screaming Karen As She Accuses His Son Of Stealing Her iPhone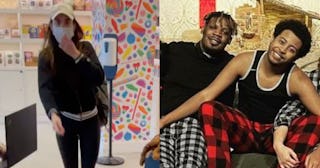 Keyon Harrold Instagram
Grammy-winning musician Keyon Harrold shares a video of the racist incident between a Karen and his son
"I hate I have to post this!!!" reads the beginning of Keyon Harrold's Instagram post. Harrold, a Grammy-Winning trumpet player, producer, and composer, was dining with his 14-year-old son after checking out of the Arlo Soho Hotel in Manhattan when they were accosted by a frantic woman, falsely accusing Harrold's son of stealing her iPhone.
"We see this crap happening all the time, but it hits different when it hits home!!!" Harrold shares in his Instagram post from the incident.
In the video, this white woman — let's face it, this Karen — becomes irate and frantic as she continues to accuse Harrold's Black son of stealing her iPhone. She demands that the boy show her the phone to prove he didn't steal it and eventually charges the boy, screaming, as Harrold says she "tackled and grabbed" his 14-year-old son.
"The lady in this video assaulted my 14-year-old son and me as we came down from our room in the Arlo Soho to get breakfast. This person quote on quote 'lost' her iPhone, and apparently, my son magically acquired it, which merely ridiculous. This incident went on for five more minutes, me protecting my son from this lunatic," Harrold writes.
At one point, the hotel manager gets involved and also demands (!) that Harrold's son prove to the woman that he didn't steal her iPhone, to which Harrold is heard saying to his son, "You don't have to explain nothing to her."
"Now watch as the manager advocates for the lady who is not even a hotel guest, insisting and attempting to use his managerial authority to force my son to show his phone to this random lady," Harrold continues. "He actually empowered her!!! He didn't even consider the fact we were actually the guests!"
After the video ends, Harrold says the woman found her phone when it was "magically returned by an Uber driver a few minutes after this incident." Harrold said neither the woman, nor the hotel or the manager, offered any apology to Harrold or his son for wrongly accusing them of theft.
The day after the assault, the Arlo Hotel finally released an apology on Instagram, writing that they are "deeply disheartened about the recent incident of baseless accusation, prejudice, and assault against an innocent gust of Arlo Hotel." Though the hotel's apology is a little too late, because as Harrold writes, "Now think about the trauma that my son now has to carry, only coming downstairs to have box day brunch with his dad…This shit happens so often. It needs to stop!!!"