Car Accident Victim's Eyeliner Review Goes Viral Because It's Extra AF
by Cassandra Stone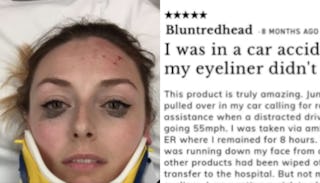 Image via Twitter/Kat Von D
This is by far the most unintentionally perfect advertisement for eyeliner ever
When it comes to eyeliner, finding a product that's tried and true and delivers the results you want can be tough. Enter Kat Von D's "Tattoo Liner" — the eyeliner that apparently doesn't smudge or budge, no matter what.
A hilarious and now-viral review demonstrates the efficacy of said eyeliner in the most extra way possible.
Twitter user Lahari was scrolling through the reviews on Kat Von D's makeup site — as you do — when she stumbled across one review for the eyeliner that really, uh, stood out.
It appears that one woman was beyond impressed with the product — and for good reason. She was the unfortunate victim of a serious car accident (that part is not at all amusing, please note) and had to be rushed to a hospital via ambulance.
She shared a selfie in her review, showing her runny mascara and some cuts and scrapes and a neck brace — but you know what didn't budge?
Her eyeliner.
"I was pulled over in my car calling for roadside assistance when a distracted driver hit me going 55mph…..I am posting a pic to show you, this product lasts and looks amazing through anything. Never buying any other liner again."
God bless her. First, for making it through an accident of that caliber and secondly, for giving us all the kind of quality internet content and very real makeup reviews we crave. But it doesn't end there. Nope. OTHER WOMEN WHO WERE ALSO IN CAR ACCIDENTS came forth to share how the liner also persevered.
[Warning, graphic photos ahead.]
LOL. Is this real life? These poor women, my face hurts looking at these photos. But you know what? If there is a better advertisement for the sustainability of literally any product in existence, I have yet to see it.
Naturally, the internet is losing it over these posts.
And before you hate on these women for taking post-accident selfies, Shelby, the original reviewer, is here to set the record straight about that with two extremely important points.
If you, like so many others, feel inclined to purchase Kat Von D's Tatoo Liner, it's only $20 and in stock. Just promise you'll be careful out there, okay?
This article was originally published on