Mom Hilariously Mocks Celebrity Parents By Recreating Their Photos
Image via Instagram/Kate Casey
"Who goes to the grocery store in luxury clothes?"
Sure, celebrity moms are just like us. They try to convince us of their realness in social media posts where they expose stretch marks, cellulite, and bare faces. But then days later, we see them donning impeccable blow outs, flawless makeup, and a perfect outfit for a trip to the grocery store.
It's not real. And that's exactly what mom and comedian Kate Casey captures in her hilarious celebrity photo recreations.
She knows just like the rest of us that the uber rich have things us regular folks don't have access to: nannies, cooks, facialists, laser treatments, make-up artists, Photoshop, and stylists. She's also a mom of four (all under age seven) with a great sense of humor about it all.
"I kept looking at pictures of celebrities in magazines and thinking how funny it would be to compare a normal mom versus a celebrity mom or a mother featured in a magazine," she tells The Huffington Post. As a way to poke fun at the lavish (and sometimes ridiculous) lifestyles of the rich and famous, Casey makes photo collages of herself and well-known celebrities side-by-side. The results are comedic genius.
The collages are all posted on Instagram and you'll have a field day scrolling through. This one shows the difference in glam squads between her and Kim Kardashian.
"It's easy to compare yourself to a glamorous celebrity," she says. "What's happened to my face? These kids have destroyed my once bikini-ready body. I can sort of remember what it was like to have thick and glossy hair. These pictures just highlight that it's okay to laugh at yourself and the absurdity of airbrushed and staged photos."
Because everyone looks like Giselle, right?
"My goal is always to make someone at home overworked and overtired laugh," Casey tells Scary Mommy. Looks like she's nailing it.
This is her mocking Mariah Carey's totally practical exercise outfit.
Grocery stores are runways, apparently.
"Who goes to the grocery store in luxury clothes?" Casey says. "I strapped my new baby into a Bjorn and dragged my other two kids into the grocery store and had my babysitter take the photo. I have been taking similar photos ever since."
Bathing in gold dresses is completely normal.
A little mockery of Beyonce and her active wear ad.
Traveling with kids is definitely the same.
https://www.instagram.com/p/BPbQ6bfDr7f/?taken-by=katecaseyca
She said she plans out her recreations by either searching for photos or taking suggestions.
"I decide on pictures based on how ridiculous they are. The more unremarkable to a normal mother the better," Casey says.
Whatever her process, it's working. She's amassed 12,000 followers on Instagram and has fans who follow her TV podcast, Reality Life with Kate Casey and read her website filled with parenting humor, called Love And Knuckles.
Here she is living the good life in a kiddie pool. As you do.
We hope she keeps these images coming, because a dose of reality is always welcome.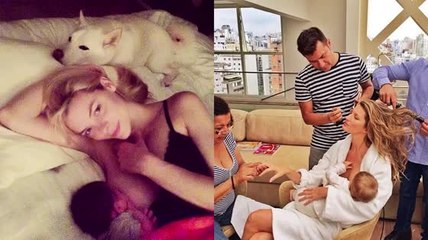 This article was originally published on