Here's Some Advertising That Finally Gets It Right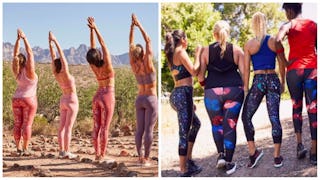 Image via Facebook/ Fabletics
Advertising for Kate Hudson's Fabletics line gets it right
I'm the average American woman — a size 14 to 16, depending on the brand. And it is refreshing as hell to see an athletic wear company finally squeeze me into its advertising — amongst its other models.
Kate Hudson's Fabletics brand manages to incorporate different body sizes into its advertising. And nobody dies! The earth doesn't spin off its axis! Chaos doesn't sweep the land! Amazing, right?
Spoiler alert: girls with big asses like spandex, too. I know! It's crazy! We also need clothes to work out in, or lounge around in, or just look cute in with a full range of motion.
The company has sizes from zero to 24 — and some of their advertising rocks.
Look! They're all hanging out with each other, just like my fit, fabulous friends hang out with me! I exist, too. Isn't that weird? I don't stay home all day, hiding in my closet, looking at old pictures of myself. I actually wear clothes and go out as well!
Namaste, motherfuckers! Girls above a size 6 also do yoga!
And look at these two girls hanging out. They have totally different proportions and they still like leaning on each other and wistfully staring into space for this photoshoot.
The point is — inclusivity is advertising is a must. And it looks fantastic. Brands need to catch up and start catering to a larger customer base that includes — gasp! — women over a size 8.
It's refreshing to see some of Fabletic's advertising really hit the mark — but the website has a long way to go. They still have a "Plus" section — and this is the landing page:
The "Plus Shop" has one plus size model in it — on the banner. This is probably earth-shattering information, but women who wear larger sizes don't actually need a whole separate space on a website so we can find all those sizes. I know that a size 16 is a size 16 without the help of a website calling it "plus sized." I'm just a genius like that. I can figure out a drop-down size tab. I really can. It's not rocket science.
Would there be something wrong with interspersing the different shapes and sizes of models together? And just having women of various sizes model the clothes — including "plus size" women? And if the answer to that question is "Well, then thin women won't know how they look in an outfit," WELCOME TO OUR WORLD.
The fact of the matter is, when women aren't represented, they're erased.
Stop erasing us, designers.
This article was originally published on