Kate Hudson Gets Real About What It's Like Hiding Early Pregnancy At Work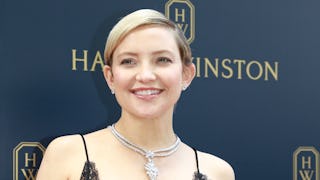 Image via VCG/VCG via Getty Images
We all know what it's like to suffer through work during that first-trimester nausea
Kate Hudson surprised and delighted us all last week when she announced she was not only pregnant with her third child, but that she was expecting her first baby girl.
While she's not the first mom to stay quiet about those first few months of pregnancy — and especially not the first celebrity mom — now she's sharing what it was really like for her while hiding it at work.
Hudson is the fit and fabulous face behind Fabletics, a super adorable company that sells athleisure. Naturally, this position requires lots of athletic-themed photoshoots. Which is fine, when you're not in the first trimester of your pregnancy and ready to barf at any given moment.
But a working mom's gotta do what a working mom's gotta do, right?
"First-trimester photo shoot for Fabletics. All I wanted was a bed and a bucket and all I got was a wheel." Now I don't know about you, but I can vividly recall my own first-trimester nausea and honestly, just thinking about doing what she's doing in this picture (and in California heat no less) is making me nauseated.
But really, how many of us have had to "play it cool" during those early days while at work? Whether it's because we aren't ready to make the announcement yet or just don't want co-workers up in our business, we can all relate to having to pretend all is well when our insides tell us we're anything but.
Hudson recently took to social media only an hour ago to spread the happy announcement writing, "If you've wondered why I've been so absent on my social channels it's because I have never been more sick! It's was the most sick first trimester of all my children."
She's already mom to sons Ryder, 14, and Bingham, six, from previous relationships.