Kate Hudson Just Announced Her Pregnancy On Instagram In The Most Adorable Video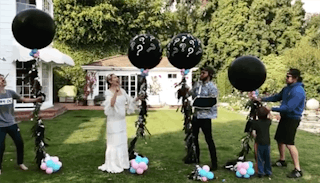 Image via Instagram/Kate Hudson
Kate Hudson just shared exciting baby news on Instagram
Kate Hudson shared the fantastic news that she's expecting her third child with the sweetest Instagram video. It was part pregnancy announcement, part very cute reveal of the little one's sex, 100 percent adorable.
She took to social media only an hour ago to spread the happy announcement writing, "If you've wondered why I've been so absent on my social channels it's because I have never been more sick! It's was the most sick first trimester of all my children."
After popping balloons to find out the baby's sex, Hudson and boyfriend Danny Fujikawa found out they're expecting a baby girl, Hudson's first daughter. She's already mom to sons Ryder, 14, and Bingham, six, from previous relationships.
She shares a little more about the crazy morning sickness she's experienced this time around and why this pregnancy has meant a brief social media break. "Boomerangs have made me nauseous, Superzoom is an easy way to have my head in the toilet, food instagrams make me queezy and thinking too much about insta stories made me even more exhausted than I already had been."
Hudson has apparently taken the whole "being an actress" thing into real life by pretending for weeks that she doesn't feel like complete crap. "If you've seen me out and about smiling and pretending like everything is amazing…I was lying!" she admits. "BUT! I have broken through on the other end of that and rediscovering the joys of insta/snap."
Glad to hear she's returned to the land of the living — we all know how that can go, trying to hide a pregnancy until it feels right to share the news while also barfing every hour, and trying to conceal a growing bump. "We have been trying to keep this pregnancy under the radar for as long as possible but I'm a poppin now!" she says. "And it's too darn challenging to hide, and frankly hiding is more exhausting then just coming out with it!" Isn't that the truth.
It sounds like the whole crew is thrilled with the news. "My kids, Danny, myself and the entire family are crazy excited! A little girl on the way."
Congrats to them all!