Kate Hudson's Fashion Week-Inspired 'Maternity Ward' Looks Will Make You LOL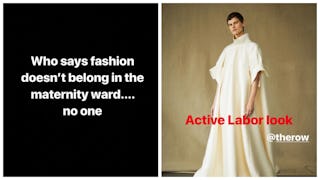 Image via Instagram/Kate Hudson
Hudson really has thought of everything
Actress Kate Hudson announced back in April she was due with her third child this fall. And while patiently awaiting the birth of her first little girl, she's had some time on her hands to plan her hospital look, compliments of New York Fashion Week. And the results are as hilarious as you'd imagine.
Hudson and boyfriend Danny Fujikawa are excited to be first time parents together (she's already mom to sons Ryder, 14, and Bingham, six, from previous relationships). This time around, she admitted to having some pretty awful morning sickness to start of this pregnancy, so now that's she's feeling better she's having a little fun. She posted the hilarious wardrobe choices on her Instagram page, taking inspiration from NYFW.
Though, joking aside, if you looked like this you could wear a paper bag and look amazing:
The soon to be mom-of-three joked that she was getting ready for the baby by shopping looks from NYFW (as one would do).
The first is understandably roomy, because she's still got a bun in the oven yet wants to make a grand entrance. And is Oscar de la Renta, so that's fancy.
Next, it's time for "active labor" wear. And we all know if we're in labor, the color palette of choice should be some shade of white. Also, it makes sense to have some sort of turtleneck type contraption on because we definitely want to feel like we're choking whilst pushing out another human from our bodies. It's fancy but not too fancy, you know?
Once you have your little bundle of dreams in your arms, it seems the next logical step is hosting a bunch of visitors. Luckily, Hudson's thought of everything with another off-white ensemble paired with a giant black cape because god forbid anyone catch a glimpse of her nip while she's breastfeeding.
It also looks extremely suffocating, which is great for anyone that has that after-birth full body hormonal sweat combined with the exertion of recently pushing a baby out of our lady gardens.
Next, Hudson chooses a more comfortable look for any visitors stopping by late night. The pair says, "I don't want to show up the new mom" and "We're just wild about your kid" at the same time. Solid choice.
Finally, and because everyone wants to make a statement when leaving the hospital, Hudson chose a classic Brandon Maxwell piece. It's forgiving, screams "I just had a girl!" — and it has pockets. Hello? Do these come in other colors? Wheelchair, shmeelchair. This look is for those who want to sweep out of the hospital as refreshed as if you'd spent the day at the spa.
It's clear in addition to having gorgeous babies, Hudson has maintained her endearing sense of humor. And we love her for it.