Kate Hudson's Healthy Postpartum Attitude Is Refreshing AF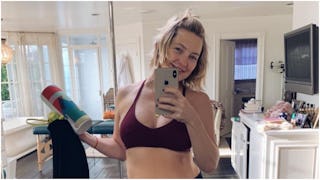 Image via Instagram/Kate Hudson
Kate Hudson wants new moms to take care of themselves – and she's got a way to help
Kate Hudson just shared her healthy new outlook on being a mom and it's going to make you feel all kinds of inspired. The actress penned a message to mothers on Instagram and reminded them that they should be putting time and energy into their own well-being. If anybody needs a little extra help, Hudson created a one-stop shop for all things cooking, exercising, and self-care.
Hudson said that – amid all the madness of having a new baby – she's taking the time to focus on her health. "Why?" she wrote. "Because I wanna be around for a long time for these three kiddos of mine." The actress noted that she wants to lose twenty-five post-baby pounds, which she hopes to achieve through new workouts and healthy eating.
And she's bringing out the big guns to make sure she achieves her goals. "Let's be honest, kids take the number one position," Hudson said. "And it's haaaard to make time for yourself. I've been doing a lot of research and I've spent my time trying all kinds of new things that are focused on health and wellness."
Intrigued? You can follow along with Hudson's journey on her new Instagram account Pretty Happy, which is packed with all kinds of food and exercise inspiration. There's also plenty of self-care tips and tricks, which we could all probably use right about now. After about two seconds of scrolling through, you'll officially want to be adopted into the Hudson family (and it wouldn't hurt to be BFFs with Goldie Hawn as well).
Hudson added that she has a whole lot of other things on her plate besides losing some baby weight.
"I wanna do all this and keep up milk production, raise my kids, work everyday, make time for my man, have girlfriend time, and stay sane," she wrote. "I know that sounds more like a new year resolution but after Thanksgiving and everyone thinking about their health, I feel motivated to keep that up."
Alright, if Kate can do it all, I guess we can too. Or, at the very least, it'll be fun to look at all the pretty pictures of food on her Instagram while we take some time for ourselves, damnit.
This article was originally published on