'I'm A Good Parent': Kate Hudson Reminds Us To Give Ourselves Some Credit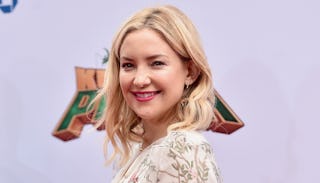 Kate Hudson tells Matt Lauer parenting is the thing she does best.
As parents, we spend a lot of our time feeling guilty for our mistakes and worrying whether or not we're getting it right, but sometimes you have to give credit where credit is due. Actress Kate Hudson did that this week during an interview with Today when she was asked what she does best, and she responded by simply saying that she's a great parent.
Hudson is doing press for her new animated movie, Kung Fu Panda 3, and she spoke with Today show host Matt Lauer this morning about voicing her character and how excited she is to be a part of a movie franchise her kids grew up with. Her character in the movie, Mei Mei, is focused on celebrating people's strengths, so Lauer asked Hudson what she feels she does best, and she responded by saying:
"The best thing I probably do is — I'll say I'm a pretty darn good parent. I'm going to pay myself on the back for that. I got good kids. [My son] Ryder's turning out to be — I'm really super proud of him. And I had something to do with that, so I think parenting is where I feel probably my strongest."
Hudson is a mom of two boys, ages four and 12, and really makes an effort to be a great mom. Back in December she posted a silly Instagram snap of her sharing the holidays with her youngest son's father, Matt Bellamy, and joked that they were having a merry "Ex-Mas." Prior to that, she opened up to Allure about co-parenting and trying to build the happiest possible family for her kids, saying the most important part of her split with Bellamy was figuring out how to "create something for the kids where they feel like they're gaining something rather than losing something."
Hudson's dedication to her kids and her consideration for their wellbeing in all circumstances are what truly make a parent great. No matter what's going on in life, kids who feel loved and protected and important will always thrive. That's something more of us should remember when we're second-guessing ourselves and worried about making the wrong decisions. As the saying goes, the fact that you're worried about being a good parent means you already are one.
It's easy to beat yourself up for your perceived failures as a parent. Every day we're hit with news stories giving us more things to worry about and other people pointing out all the things we're doing wrong. It's easy to forget how often we get it right, and Hudson's comments are a reminder to occasionally sit back and give ourselves a little credit. We're all working hard to be good at this parenting gig. It's okay to acknowledge that our kids are turning into amazing people, and that we have something to do with that.
This article was originally published on