Kate Hudson's Latest Instagram Proves A Sense Of Humor Is Essential When Co-Parenting
by Ashley Austrew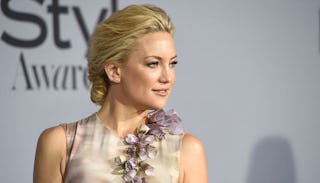 Kate Hudson and Matt Bellamy are a model of co-parenting done right.
Parenting kids post-split isn't easy, especially when you're trying to decide what to do on the holidays. Luckily, Kate Hudson and her ex, musician Matt Bellamy, seem to have it figured out.
Over the holiday weekend, the actress shared a funny snap of them celebrating "ExMas" with their families, which she captioned, "From our #ModernFamily to your #WhateverKindaFamilyIsYourKindaFamily we send you much love and blessings on this Christmas Eve #ExMas#HolidayFun#SantasComing."
Hudson and Bellamy co-parent their four-year-old son, Bingham, as well as Kate's son, Ryder, from a previous relationship. The pair split in 2014 after four years together and an engagement. Earlier this year, Hudson sat down with Allure and opened up about their painful decision to separate and how hard they've worked to both be present for their kids. She told the magazine:
"If Matt and I had a great relationship, we would still be together, but we chose to move on because we had different visions of how we wanted to live our lives. That doesn't mean, though, that we can't rebuild something that would be the best thing for the kids. We said, 'We need to try to create something for the kids where they feel like they're gaining something rather than losing something.'"
Spending the holidays together and even jokingly referring to it as "ExMas" makes it seem like they're doing a pretty damn good job. Break-ups and divorces are hard on every single member of a family, but they're for the best sometimes, and a split certainly shouldn't prevent both parents from still being a present and positive part of their children's lives. If you're both committed to successfully co-parenting, you can make the transition just what Hudson said: a gain rather than a loss.
As much as society tends to push the "traditional" family narrative, kids need their parents to be happy and fulfilled, even if it means splitting up. In fact, a recent UK survey by ComRes showed 82 percent of kids say they'd prefer their parents split up if they're unhappy, rather than stay together. A whopping 88 percent of them also said the most important thing in a split is not feeling like they have to choose between their parents.
So, together or not together, what really matters is honoring your commitment to the family you started and being there for your kids. The Hudson-Bellamy clan seem to have a firm grasp on that, and they're setting a great example for other co-parenting families. It's not an easy thing to navigate, but it is possible to find a solution that works for everyone so you can have a Merry ExMas of your very own.