Just Give Kate McKinnon Whatever She Wants So She Can Keep Doing THIS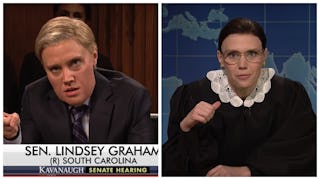 Image via YouTube/SNL
Kate McKinnon stole the entire SNL premiere last night, sorry not sorry
A lot of people are talking about Matt Damon's cameo as Brett Kavanaugh on the season premiere of SNL last night. And that's fair, because it was a well-performed cameo. But since Matt Damon has been a complete fool with regard to public statements about the #MeToo movement in addition to basically being a Louis C.K. apologist, let's focus on Kate McKinnon, shall we?
Because DAMN. Her impressions of Lindsey Graham and Ruth Bader Ginsberg were unparalleled last night.
During last night's 13-minute cold open, almost the entire cast (plus Damon and former cast member Rachel Dratch) re-enacted the Kavanaugh hearing that literally scarred us all last week. And while there's absolutely nothing funny about Brett Kavanaugh or the hearing itself, SNL did what SNL does and brought some much-needed levity to the news. Here's the cold open in full (McKinnon comes in a little after the 10:00 mark).
It's entertaining as hell, yes. Even if we don't want it to be, because it's based solely on actual horrific events both past and present.
So let's just get right to the goods. McKinnon's Lindsey Graham, who uttered gems like "I've been waiting to yell and shake my finger and get red as a tomatah for 15 minutes," and "This right now is my audition for Mr. Trump's cabinet and also for a regional production of The Crucible."
McKinnon's Graham was positively unhinged — much like the senator himself, especially during the hearing when he practically burst his own appendix in indignation that an accused rapist wasn't getting better treatment.
And, of course, McKinnon's Ruth Bader Ginsburg made an appearance during Weekend Update. Because things are so bad right now we count on a fictional representation of our favorite Supreme Court justice to get us through the week.
The best "Ginsburn" of the evening: "Jeff Flake, you can borrow a pair of my panties, since you're so concerned with covering your own ass."
Kate McKinnon, like Lin Manuel Miranda, Tom Hanks, and Kristen Bell and pretty much no one else at all, is a national treasure. Don't believe me? Then believe the people. They have spoken.
See? It's true.
Here's hoping McKinnon feels the same way about her stint on SNL as her Ginsburg character does about the Supreme Court: "Don't worry, my kittens. I'm never going to give you up, never going to let you down, never going to turn around and retire."
This article was originally published on