Kate Middleton Calls For An End To Stigma Surrounding Kids' Mental Health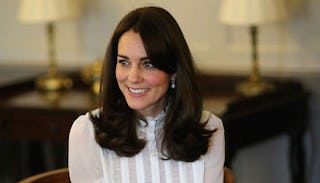 Kate Middleton is speaking out about kids' mental health.
Kate Middleton is one of the most influential women in the world, and she's decided to use her platform to speak up for kids and their mental health. In a blog post she authored as a Guest Editor for the Huffington Post, the Duchess of Cambridge has called for an end to the "taboo" surrounding mental illness and introduced the Young Minds Matter Initiative, which is a series intended to raise awareness about mental heath issues that affect children.
In her post, Middleton writes that she first became interested in mental health while working with charities that helped families in need and treat addiction. She says she often heard "heart-breaking stories about lives that had been torn apart," but what she found most surprising was the way those events affected people later in life. She writes:
"What I did not expect was to see that time and time again, the issues that led people to addiction and destructive decision making seemed to almost always stem from unresolved childhood challenges. It became clear to me that many children – even those younger than five – have to deal with complex problems without the emotional resilience, language or confidence to ask for help."
The biggest problem, she says, is the stigma surrounding mental health issues. It affects not only our willingness to seek help for ourselves, but also our ability to recognize and treat mental health problems in our kids. She writes:
"The mental health of our children must be seen as every bit as important as their physical health… Research published today by the Huffington Post indicates that around a third of parents still worry that they will look like a bad mother or father if their child has a mental health problem. Parenting is hard enough without letting prejudices stop us from asking for the help we need for ourselves and our children."
She adds that she and Prince William would not hesitate to seek treatment for their own children, should one of them need it, and says parents, schools, and communities need to work together to ensure all children have access to the care they need — especially those who are underprivileged and underserved.
It's a huge deal for a public figure like Kate Middleton to speak up about kids' mental health, and it's even more important that she admits openly that she'd be willing to confront issues within her own family. As someone who's suffered from anxiety and depression for most of my adult life, I understand now that a lot of my issues began in childhood. I can't help but wonder how parts of my life would be different if I I'd gotten help sooner and talking about mental health hadn't been so taboo.
According to the National Institutes of Health, one in five kids will have a serious debilitating mental disorder at some point in their lives, and 13 percent of children ages eight to 15 have had a diagnosable mental disorder within the past year. Whether you're talking about mood disorders, anxiety, depression, or even ADHD, kids are not immune to mental health issues, and it leaves them vulnerable to bigger problems when we pretend they can't be affected.
It's easy to diminish kids' struggles, to chalk their behavior up to a phase, or to pretend whatever they're dealing with will go away on it's own, but it's vitally important that we pay attention to what's really going on. We should treat mental health issues as seriously and aggressively as we would any other illness, and we should never approach them from a place of shame. Mental health issues aren't a choice, but stigmatizing them is, and we can all afford to do better by our kids.
This article was originally published on