Kate Middleton Gives Birth To Baby #3!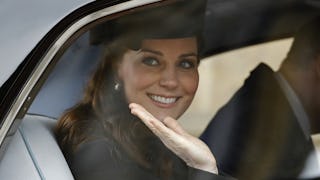 Image via TOLGA AKMEN/AFP/Getty Images
Duchess Kate was admitted to the hospital early this morning and just gave birth
This morning, the world found out the exciting news that royal baby #3 was imminent — Duchess Kate was admitted earlier today to the famed Lindo Wing at St. Mary's Hospital in London in what's being described as "the early stages of labour." And now? It's a boy! The Duchess gave birth at 11:01 am, UK time.
The Palace shared the exciting news only moments ago. It's a healthy baby boy weighing in at 8lbs, 7oz.
Earlier, they announced that Kate was on her way to the hospital to have her baby, with today being her actual due date. How perfectly princess-ly punctual.
She must have woken up this morning, felt a stirring, and hightailed it to the hospital. When it's your third, you know — and judging by the birth mere hours later, she was absolutely right.
Princess Charlotte was born in 2015 and Kate emerged shortly after somehow looking completely amazing, of course.
George was born in 2013 to a complete world-wide frenzy, because he was the first. Also, can we even stand how glowing she was? I personally cannot. She's too much.
All morning the whole world waited on news of the royal uterus, which frankly, must absolutely suck. Of course it's always stressful for a mom knowing people are anxiously awaiting updates on your private parts and what kind of progress they're making, but can it really compare to this royal pressure cooker? Like, oh dear, your mother-in-law flew in a few days early for the birth of your baby? That's adorable. The entire world press was outside the hospital while Kate "hee hee hoo'd" her way through contractions and to boot, they'll expect a photo op later while she still has a pad the size of a phone book between her legs. Moms are amazing.
There's literally a live feed waiting to see her emerge along with armed guards posted outside the Lindo Wing. Super low pressure, you guys.
The wait has had people pretty excitable and possibly jumping the gun as evidenced by this poor couple, non-royal, who left the hospital with their baby and were met with a barrage of press.
This is exactly what a mom needs right after giving birth, right?
Congratulations to the royal parents and the royal older siblings, who will hopefully make an adorable visit to the hospital later today to see their new baby brother. We can't wait to see the first photo of all three together.
This article was originally published on