This Is What A Mom Looks Like When She's Trying Not To Lose Her Sh*t
by Maria Guido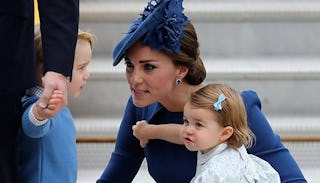 Image via Chris Jackson/Getty Images
'The Look' is universal
"The Look." We all do it. It's that composed, slight smile on our face, but rage in our eyes. It says, We are in public, and I can not scream my face off at the moment but YOU BETTER FREAKING DO WHAT I SAY RIGHT NOW. LOOK INTO MY EYES. DO YOU SEE MY FACE? DO YOU SEE THE MESSAGE I'M SENDING YOU? IT'S TELEPATHIC, YOU LITTLE SHIT. ABSORB IT. LEARN IT. FEAR IT. DAMMIT, LISTEN TO ME KID.
There's a meme circulating wildly around Facebook now, that is seriously cracking moms up. Because we've all been there.
Here is Catherine, Duchess of Cambridge. She's a Duchess, and her kids annoy the shit out of her at times just like ours do. Yes, motherhood is a universal experience that binds us all. Even a prince or princess can push you over the edge.
I was attempting to leave the park yesterday with two small children in tow. It's fucking impossible. How do those of you with even larger families do it? I was employing "The Look" so hard, I was actually scared that I was going to have a stroke. Picture an exhausted woman after a long day of work, trying to corral her five and three-year-old out of the park. Then picture said five and three-year-old running away, laughing like maniacs. And all the while, the other moms are looking at me like, "I feel your pain."
So finally I just thought, "Screw it. I'm yelling."
GET IN THE CAR NOW! OR I'M NEVER BRINGING YOU BACK HERE! DO YOU HEAR ME? YOU WILL ONLY BE COMING HERE WITH YOUR FATHER, FOREVER.
Pro-tip: sometimes the look doesn't work. Sometimes you may just have to lose your shit. And if you're surrounded by a tribe of moms (even ones you don't know) you may just make them feel better about their own parenting for a few minutes.
Solidarity, ladies.
This article was originally published on