Kate Middleton Is Every Mom Trying To Get Through A Wedding With Kids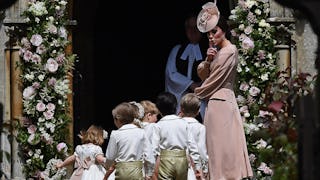 Image via WPA Pool/Getty Images
Duchess Kate wrangles the group of child attendants at her sister's wedding like a pro
Yesterday, Kate Middleton, aka, the Duchess of Cambridge, attended the wedding of her sister, Pippa. Judging by photos, the Duchess herself was charged with keeping not only her own royal kids from acting a fool, but the entire mini entourage of child attendants.
And of course, she did it like a total boss.
We've long admired the way Duchess Kate parents, that is, the fact that she seems to expect stellar behavior from her kids and isn't above losing her shit — or at least threatening to — if that's what it takes. During an outing last year, the Duchess was captured making a face every mom makes in an effort to get a toddlerly Prince George under control. It let us know she's one of us, and her demeanor at her sister's wedding yesterday was no exception.
The Duchess was spotted by cameras numerous times rounding up her rowdy crew of toddlers and preschoolers on their walk to the church, making sure no one stepped out of line. There's even video footage of her emerging from a car and expertly wrangling an escapee before he had a chance to make headlines as the runaway pageboy. These are the movements of a practiced mom who's had to rescue wily kiddos before. And we love it.
Oh, this face looks familiar. That warning look in her eye. She's absolutely delivering a "behave and do as I say or no crumpets for you later" speech. Because unlike us Normals where it's just strangers and a stock boy at Target bearing witness when our kids act out, the literal entire world was watching the Duchess keep track of her teeny squad. And she's not fucking about one single bit.
At one point, she had to pull over and have a little "Come to Jesus" chat with Princess Charlotte, who was looking every bit the 2-year-old with an internal timer set to maaaaybe half an hour of somewhat passable behavior before she goes off. The Duchess' face says it all — Charlotte's patience is reaching its expiration, and so is Kate's.
"Look over there, Charlotte! Those kids are keeping their shit together. You best step to."
The posse finally makes it to the church entrance and miraculously, everyone is accounted for. Check out that shush — that is the shush of a seasoned professional.
The Duchess may look thrilled here, but us moms see something else behind that tight smile and ever so slight hint of panic in her eyes. That grip on her toddler's shoulder. Her walk may have ended, but she still has a whole church service to survive with a 2-year-old. We feel you, girl. We feel you so hard.
Look at this. Charlotte is literally licking the bottom of her flower girl basket. Because of course she is. We hope the Duchess had several glasses of wine once this was all over.
Having fun Pippa? Enjoying your day? Must be nice going about your life not having to stop a toddler from ingesting itty bitty slivers of wicker off a god damn basket. Must. Be. Nice.
If we had to guess the Duchess' internal monologue in this capture it would go something like, "How cool for you childless people who will have sex tonight and sleep in tomorrow after I spent the day wrangling restless kids and having royal boogers wiped on my Sarah Burton for Alexander McQueen dress. So happy for you, truly. Cheerio!"
Speaking of boogers, even a Duchess can't stop kids from being kids. But she did a damn good job overall.
This article was originally published on