Hyperemesis Gravidarum Doesn't Care If You're A Princess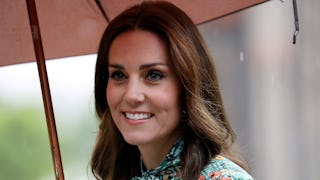 Image via Chris Jackson/Getty Images
Kate Middleton is once again suffering from hyperemesis gravidarum
Yesterday brought the happy announcement that the Duke and Duchess of Cambridge, aka, Kate Middleton and Prince William, are set to welcome their third royal baby. Sadly, the Palace also shared that the Duchess is once again sick with the extreme form of morning sickness that happened with both of her prior pregnancies — hyperemesis gravidarum.
In a tweet yesterday morning, the Kensington Palace Twitter account shared the news that the Duchess was once again expecting. As was the case with her last two pregnancies, the royal couple were forced to announce their impending addition very early on, as Kate's absence from her duties would be noticed quickly and require explanation.
The Palace followed up with the text of a press release about Kate's condition in the early weeks of her pregnancy.
Already mom to four-year-old George and two-year-old Charlotte, the Duchess is about to have an even busier royal household, but first, she has to get through what will likely be a physically grueling pregnancy. Hyperemesis gravidarum is no joke and often misunderstood by those who haven't experienced it. No, it's not just super bad morning sickness, it's usually totally debilitating, and for some moms, requires periods of hospitalization and medication to manage the nausea.
The National Institute of Health describes the condition as "extreme, persistent nausea and vomiting during pregnancy" and notes that dehydration, weight loss, and electrolyte imbalances are just some of the complications it can lead to. Obviously, it's not good for a pregnant woman to lose weight or be dehydrated, but the physical effects are only the beginning.
The NIH notes that women suffering from HG can experience depression and anxiety that can continue even after pregnancy. Imagine throwing up every day for nine months, which is the case for many moms who have HG. It touches every corner of a woman's life for weeks on end — it's easy to see how its ill effects could last beyond birth. The condition can make it difficult to keep up with work, parenting, and self-care, making moms feel helpless and alone. A perfect recipe for postpartum depression and anxiety.
Of course, a Duchess has plenty of resources at the ready that a typical mom doesn't, but all the help in the world won't change the fact that George and Charlotte will get a little less of their mom until she feels better. Which makes complete sense, as she needs to take care of her health first, but if Kate is like any other mom, (and we know she is) the guilt will be intense when she can't always be there. Indeed, a BBC royal watcher is already suggesting she may not be able to take George to his first day of "big" school this week because of her illness, a thought that stabs at our momma hearts.
Princess or not, every mom wants to be available for their kids during moments both big and small.
We all know the Duchess is a total champion when it comes to motherhood, and having weathered the misery of HG twice before, she's clearly making sure to get ahead of it and take care of herself by cancelling engagements when she isn't feeling well. Not all moms can be so quick to put themselves first, and she's undoubtedly in a lucky position to be able to do so, but that won't change how hard the next several months will be as she mothers her kids and tries to grapple with her sickness at the same time.
But if anyone can handle it, it's her.
This article was originally published on