Kate Spade, Fashion Icon, Has Died At 55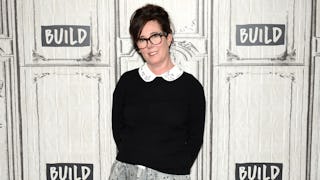 Image via Andrew Toth/FilmMagic
Spade was found by a housekeeper in her NYC apartment
American fashion designer and icon Kate Spade was found dead in her NYC apartment this morning in an apparent suicide. Sources report she left behind a note. She was found by a housekeeper earlier today. She was 55.
CNN reports that an NYPD source says the call about her passing came in at 10:30 this morning. The contents of the note she left behind are currently unknown.
According to Wikipedia, Kansas City, Missouri-born Spade and her husband Andy launched her New York-based design company in 1993, Kate Spade Handbags. By 1996, her brand opened its first boutique in Manhattan's SoHo district. In 2004, "Kate Spade at home" launched offering bedding, bath items, china, wallpaper and other home items. She sold her remaining ownership stake in the company in 2006 to take time off to be with her daughter, Frances Beatrix Spade, born in 2005.
In 2016, Spade launched a new luxury footwear and handbag company called Frances Valentine. Just recently, the company began a new campaign called, "Where is Kate?" which included a video produced and directed by her husband.
In 2017, Coach, Inc. acquired Kate Spade for $2.4 billion. Kate Spade New York has more than 140 shops and outlet stores in the United States with another 175 internationally. She's won countless awards throughout her career for her creativity and entrepreneurial skills. Her brand was known for having sleek, utilitarian shapes and designs. Spade was a former accessories editor for Mademoiselle but left in 1991 with the title of senior fashion editor/head of accessories.
She leaves behind her 13-year-old daughter and her husband of 24 years.
Twitter reactions came quickly as the fashion world learned the tragic news of her passing.
Many included a plea to those suffering from mental illness to reach out for help.
If you or someone you know is considering suicide, please contact the National Suicide Prevention Lifeline at 1-800-273-TALK (8255).
This article was originally published on