Kate Spade NY Pledges $1 Million To Supporting Mental Health Causes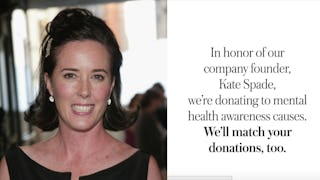 Image via Evan Agostini/Getty Images / Kate Spade New York/Instagram
Kate Spade's company has already pledged $1 million to support mental health causes
It's hard to believe it's only been two weeks since Kate Spade, the iconic designer who founded Kate Spade New York, was found dead of an apparent suicide.
Now, her namesake company is pledging support to causes that bring awareness to mental health, including matching donations from Spade's many fans and admirers.
This week, the company posted to Instagram, writing, "in honor of our company founder, kate spade, our foundation is donating over $1 million to suicide prevention and mental health awareness causes, starting with $250,000 to the @crisistextline. from june 20 through june 29, 2018, the kate spade new york foundation will also match public donations made to the crisis text line, up to the amount of $100,000. to make your donation, please go to crisistextline.org/katespadeny. thank you for your generosity and support."
The $250,000 donation and $100,000 matching donation to Crisis Text Line are apparently just the beginning; the company has pledged "over $1 million," so more announcements of donations to similar causes should be coming soon. Here's hoping the company also offers to match fan and customer donations then, too, so more money can support this important cause.
Followers of the brand on Instagram were immediately supportive, writing comments like, "This makes me really proud to say I am a customer of this beautiful brand," and "I think this is amazing! I respect and appreciate everything you are doing. Having a family member who had mental health issues this brings tears to my eyes…Thank you!!!"
The day she passed away, the company honored "all the beauty she brought into this world."
Spade was found in her New York apartment earlier this month, and in the days following her death, her husband revealed she had struggled with anxiety and depression. Just days later, celebrity chef Anthony Bourdain also died of an apparent suicide. The two high profile deaths inspired a national conversation about mental health and the resources available to get help.