Gymnast Scores A '10' With Flawless Michael Jackson-Inspired Floor Routine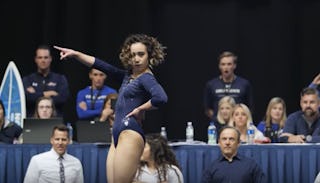 Image via YouTube/UCLA
Gymnast Katelyn Ohashi's latest floor routine brought down the house — just like last year's viral performance
UCLA gymnast Katelyn Ohashi went viral last year with an incredible Michael Jackson-themed routine that basically broke the internet and now, she's back with another quality MJ-infused performance that (rightfully) earned her a perfect 10.
We'd give her a 20, TBH.
The 21-year-old athlete brought her brand-new routine to the UCLA gymnastics season opener over the weekend — and boy, what an opener it was. See if you can get through this video full of Michael Jackson hits and Ohashi's amazing moves without smiling your face off and cheering out loud. This woman's joy is positively infectious — and her talent has to be seen to be believed.
Where do we even begin? Her utterly flawless moves, both dancing and tumbling? Those mind-boggling splits? Her immaculate Michael Jackson song choices? This girl is on fire, and we're just totally here for it.
The team was facing Cal this weekend when Ohashi stunned once again with a routine so good it garners tons of views worldwide. Last year's Michael Jackson-themed performance has been watched well over 4 million times, and her most recent turn has already racked up over half a million views.
A little refresher from last year because 1) she's amazing 2) it's just way too much fun to only see once.
Ohashi looks completely joyful as she rocks the floor, but the truth behind her talent is that she's had moments of doubt throughout her storied gymnastics career. In a video for The Player's Tribune last summer titled "I Was Broken," she describes her journey from Olympic hopeful to college all-star.
"There was a time where I was on top of the world, an Olympic hopeful," Ohashi narrates. "I was unbeatable, until I wasn't."
In 2013, she won the American Cup beating teammate Simone Biles, and we all know what Biles went on to accomplish. Ohashi explains the pressure she was once under from fans saying she "wasn't good enough" to worrying over her diet. But once she discovered the UCLA team and her coach, Valorie Kondos Field, that all changed.
"It took me finding Ms. Val [Kondos Field] and UCLA and having a different goal and path to follow, to finally find joy and love within the sport again," Ohashi shares, adding, "I haven't been able to feel this type of happiness in a long time."
The happiness on her face appears to come from a huge change in goals. She says, "It's not the outcome. It's not me standing on the podium with medals. It's me being able to walk out with a smile on my face and truly being happy with myself."
And everyone who sees her perform is smiling too, because it shows.
This article was originally published on