Katherine Heigl Shares Her Post Baby Body Transformation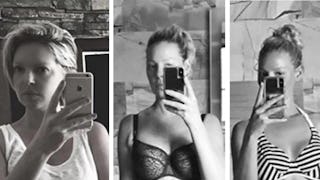 Image via Instagram
Katherine Heigl reveals her post baby bod pictures.
Katherine Heigl just posted side-by-side shots of her post baby body transformation — and it is equal parts deeply relatable and deeply, deeply unrelatable. On the one hand, she opens up about wanting to feel sexy and strong after giving birth. Totally, I'm right there with you. On the other hand, she looks like a friggin' supermodel — abs and all — by the end. Proceed with caution.
Heigl took to Instagram to share her baby body fitness journey, which started just after she gave birth 14 months ago. She only snapped a couple of shots throughout because she was too busy "covering it all up those months, not posing in [her] unders." Yup, that's fair.
"I have a beach vacation coming up, a new job I start filming in April and my deep desire to feel fit, strong and sexy propelling me forward the last two months to finally lose the last of my baby weight and do a deep dive search for the ab muscles I knew were buried under that belly somewhere!" she wrote.
Mhmmm, those ab muscles are certainly there. Side note: I would happily take the abs in picture #2 as well. Like, that would actually be a DREAM.
Heigl attributes her fitness results to the BBG (Bikini Body Guide) Program, which consists of three day a week, 28 minute workout sessions. It can be done at home, so actually please sign me up immediately. The actress warned that the workouts can be a real "ass kicker" but definitely well worth all the pain.
"The progress I've made in only 5 short weeks has kept me motivated and inspired to keep going!" she wrote. "I am so grateful I've had a full year to find those ab muscles and get my butt back up where it belongs."
And that she did. That she did.
When you're done drooling over Hiegl's stomach/legs/overall physique, scroll on down through her Instagram for some very, very adorable baby pictures. Fitness is fun and all, but helloooo cute chubby baby cheeks.
Here's to getting lots of inspiration from Katherine Heigl's workout and doing some heavy duty sweating of your own. Or, if you'd prefer to just watch a Katherine Heigl movie instead (highly recommend 27 Dresses), I'm totally good with that too.