Kathryn Hahn To Play Joan Rivers In Upcoming Limited Series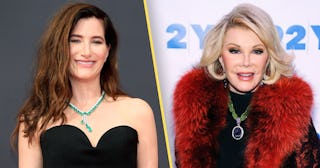 Rich Fury/Ilya S. Savenok/Getty
Kathryn Hahn to play Joan Rivers in a limited series about the comic's life
If you aren't in on the Kathryn Hahn fandom, get on board because the funniest person in Hollywood is gearing up to play the iconic powerhouse and comedienne, the late, great, Joan Rivers, in a new TV show. Though it's only "in the works" at this stage, Showtime is cooking up a Limited Series about the famed E! host and her inspiring career comeback in her '50s.
Hahn is one of those actors who has been in literally everything, scene-stealing since she arrived in Hollywood. You might know her for her work on Transparent or in the Bad Moms movies or her recent turn on WandaVision (for which she was nominated for an Emmy Award this weekend). Hahn is immediately funny in everything she's in, which makes her the perfect choice to play the hilarious and legendary comic and talk show host, Rivers.
The Comeback Girl is a limited series in development at Showtime and takes place in the late '80s after the cancellation of short-lived The Late Show With Joan Rivers and her husband Edgar Rosenberg's death by suicide.
Rivers was 54 at the time, and she was the first woman to host a late-night talk show, she was on top of the world. But after the show's end and her husband's death, she went back to work, carving out a legendary career as comic, fashion correspondent, and all-around legend.
"Trailblazer. Adored. Cruel. Diva. Joan Rivers had a life like no other. At age 54, she was a superstar comedienne…and then it all fell apart," a description for the show reads (via Variety). "The Comeback Girl is the awe-inspiring untold story of how Joan Rivers persevered through near suicide and professional abyss to rebuild herself and her career to become a global icon."
In her 50s, Rivers completely re-invented her career, marking one of the greatest comebacks in Hollywood.
A few years after her husband's passing, Rivers went on to launch a popular daytime talk show, became the queen of QVC, and revolutionized red carpet interviews for E! with her fast, biting, and sarcastic banter.
Rivers died at age 81 on September 4, 2014, days after she stopped breathing after undergoing a routine endoscopy at Yorkville Endoscopy in Manhattan. Her daughter Melissa Rivers later sued the practice for medical malpractice, alleging the doctors performed unauthorized medical procedures and were caught taking selfies with the star.
It was a tragic end to an illustrious career and life, but the news that the very talented Hahn will bring Rivers' life and legacy back to the small screen feels like a more appropriate send-off and celebration of the great comedienne's life and accomplishments. We cannot wait.