How This Brave Woman Uncovered A Massive High School Sexual Abuse Scandal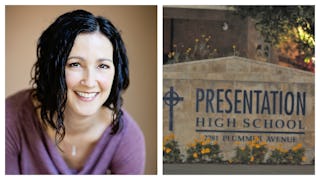 Kathryn Leehane
When Kathryn Leehane arrived at her high school Spanish teacher's office during her senior year at Presentation High School in the Bay Area of California, she was hoping for coaching with a poem she planned to recite at a local Spanish poetry contest.
What she got instead was sexual abuse.
According to Leehane, she had gone to her teacher, John Fernandez, in 1990 to practice reciting the poem for the contest. When Fernandez told Leehane she needed to read more dramatically, he emphasized his point by putting his arm around her, bringing her hand to her left breast. He then took her hand, and kissed it, saying she should flirt with an idea like she would a lover.
Leehane left his office, unsettled and disturbed.
"I didn't tell anyone," Leehane told Scary Mommy, "because who was going to believe me?" And because Fernandez was her teacher and in charge of her grades, she feared retribution by telling her story.
So she kept quiet.
Then, it happened again.
The next week, Leehane returned to his office for additional rehearsal on her poem and, when she arrived, Fernandez had an odd look on his face. He caught Leehane's eye, put his finger to his lips, and slid a photograph across his desk for her to see. In the photo was a naked woman wearing an open fur coat.
"He said, 'I took the picture myself'," Leehane recalled. Again, Leehane left his office confused (and uncomfortable) with his actions and she continued to stay silent. "No one was going to believe this revered teacher had done this to me," she said.
Three years after Leehane's abuse, she was visiting with a friend and former alumna of Presentation High School, Jane Doe.* Doe told Leehane she had been sexually assaulted by a teacher on an overnight trip in high school. The teacher? John Fernandez. When Doe and Leehane pieced together the series of events, they determined that Doe's assault happened a few months before Leehane's.
And then, they realized there was a pattern.
"I was never so naïve to think I was his only victim, but I was floored," Leehane said. "There's a sense of relief that you're not the only one, but also a sense of horror when you realize you weren't the only one."
Sickened by her friend's trauma and fueled by the anger of her own, Leehane reached out to then Presentation High principal Marian Stuckey via letter in 1993, detailing the sexual abuse.
That letter went unanswered.
Over the course of the next five years, Leehane sent at least ten letters of correspondence and had one meeting with the Presentation High School administration as she fought to bring Fernandez's abuse to light. While the new principal, Mary Miller, assured her they'd address the abuse, it became clear as the years went by that Fernandez would not be held accountable.
Though she eventually gave up on getting justice, she never found closure.
Her moment of reckoning came, though, in October 2016 when Fernandez died, ironically, on her birthday.
"It was a wonderful birthday present," she said. "But then I immediately felt guilty for thinking that." In processing the emotions that came with finding out that her abuser was dead, Leehane turned to writing to help her find closure. In October 2017, she wrote an op-ed piece for the Washington Post, in which she discussed the fact that sexual assault victims find closure in different ways. Without revealing identifying details, she discussed her abuse in the piece and told her story of finally finding a measure of closure.
Little did she know, her journey to justice and closure had just been cracked wide open.
Her piece was shared in a Presentation High School alumni group and, almost immediately, women recognized Leehane's abuser as Fernandez. Comment after comment flowed as women who had graduated from Presentation High School compared notes. Leehane and Doe were not the only victims of sexual abuse at the school. Not by a long shot, in fact.
To date, four women have come forward to say "me too" with respect to Fernandez. And there's no way of knowing how many of Fernandez's victims are still in suffering in silence. At least 16 other victims of other Presentation High School employees have been identified.
And, what's worse? As far as the women can tell, none of their complaints were ever forwarded to the police, as is required by law.
Over 20 women, high school-aged at the time of their abuse, came forth with their stories and trusted the administrators of Presentation High School to help them. And nothing was done. Not a single thing.
Despite four accusations against him, Fernandez was never investigated by the police, never put on leave, never questioned about his behaviors. Oh, but he was awarded Teacher of the Year in 1996, though.
If you're not horrified, you're not paying attention.
And, as if that's not enough, at least ten other accused abusers were either allowed to stay at the school and/or quietly moved on to other school, putting thousands of children at risk.
As the outrage over the mishandled sexual abuse reports swept through the Presentation High School community, the women who were abused and their supporters took action. Advocates started a petition demanding that Presentation High School launch an independent investigation into the obvious culture of rape and sexual assault. Survivors and witnesses held press conferences and started a website to gather information and assist other victims as they come forward.
Leehane and the other women are actively fighting for strict adherence to mandatory reporting laws and permanent changes in PHS policy and leadership to protect all the students entrusted to their care.
But the Presentation High School administrators who are accused of violating child abuse reporting laws for almost thirty years may very well get away with it.
One reason is that California's statute of limitations for failing to report childhood sexual abuse is only twelve months and charges are rare. The statute of limitations for Leehane's abuse has long since run out.
But she's determined to change that.
Leehane is working with local representatives to increase the statute of limitations for, and increase the penalties for, failure to report child abuse. In April 2018, Leehane testified in front of the California Senate Education Committee in support of the The Safe Act, a bill designed to strengthen vetting processes for teachers.
She's not just advocating for the victims at her high school, she's working to protect children throughout the entire state of California. She's also hoping this movement spreads throughout the nation.
"We have to ensure those who enable child abuse are held accountable too. My God, if these women had acted and simply done the right thing on any of these allegations, additional abuse and rape could have been prevented."
Slow clap, Kathryn Leehane. We believe you. You are brave, and amazing, and you are going to make a difference.
This article was originally published on