Katie Holmes On The Heartbreak Of Parenthood: 'Every Day, Kids Get A Little Further Away From You'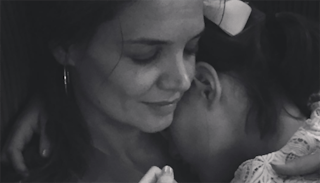 Image via Instagram
Katie Holmes talks parenting, directing and letting go
Parents, especially those in the thick of screaming toddlers and sleepless nights, often balk at hearing "Enjoy it, it goes by so fast." But it really does go by in the blink of an eye. My oldest is almost 14 and I look at her and think to myself I was just pregnant with you.
Katie Holmes recently opened up about how quickly daughter Suri is growing up, and the joy and pain of watching children get older. It is a bittersweet dichotomy all parents face as our children mature and we recognize just how short a time we're really permitted with them as our "little kids."
"Every day, kids get a little further away from you," she tells Town And County of her daughter Suri, now ten."That's a positive thing. They should be becoming more independent, but it's heartbreaking." Holmes was granted primary custody of Suri after her 2012 divorce from Tom Cruise. "You want them to stay with you forever, but they're these amazing beings, and you have to do everything you can to give them what they need—and then they're going to go," Holmes says. "And that's going to be very, very sad for me."
Parenting is unyielding, at times boring and draining and maddening. There are those days when it feels like time is standing still, that you are drowning in a sea of dirty diapers and temper tantrums. Then one day you look up and your child is grown and you realize in that moment, you need them more than they need you.
Recognizing how quickly time marches forward, Holmes looks to take on work as a director, allowing her more time at home with Suri. "The thing about directing is I can say I have this window and that's when we're getting it done," she explains. "My child is the most important person to me, and her upbringing is paramount to my work right now. It's very important that I'm present and she has a stable, innocent childhood."
https://www.instagram.com/p/BOLw_4GA1Y8/?taken-by=katieholmes212
For now, her upcoming role as the former first lady reveals Jackie Kennedy's life after President John F. Kennedy's assassination. The part is one Holmes can relate to as a single mom raising her child in the spotlight. It seems she has done an incredible job thus far in keeping Suri grounded. The two are often spotted at Lakers basketball games, out and about in her hometown in Ohio, or playing games at Dave and Busters.
"I feel so blessed to do what I do," says Holmes, "but there's nothing in the world better than watching your child succeed."