Blogger Shares 'Brutal' Comments Made About Her Body After Dressing Like Meghan Markle
by Madison Vanderberg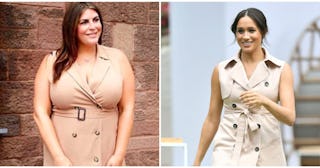 Katie Sturino/Samir Hussein/WireImage
Plus size blogger Katie Sturino shares the nasty comments she received about her body after dressing like Meghan Markle
Katie Sturino is a fashion blogger best known for her Instagram series "Super Size The Look" where she recreates celeb, model, and royal fashion looks for her size and reminds her audience that "it's not about who wore it better" and that "style has no size." We love her body confident and size-inclusive fashion series, plus it gives us some great shopping inspiration, but unfortunately, when Sturino's recent Meghan Markle-inspired "Super Size The Look" got picked up by a few news outlets, Sturino was stunned by the amount of nasty and fatphobic comments about her size.
https://www.instagram.com/p/B3a8y4iBGXJ/
"My #SuperSizeTheLook shots with Meghan Markle got picked up and the comments are brutal…they do not hurt my feelings, but they are scary!" Sturino shared on Instagram alongside screengrabs of the worst offenders. "No clothing looks good in obese people," wrote one cruel commenter. "Body positivity is a lot easier when you don't look like a cow," said another.
https://www.instagram.com/p/B42YtIcBMM7/
Sturino wasn't broken by the comments, but instead shared online that "every time I think we have made so much progress about our bodies and the way we talk about women, something pops up to remind me our work is not done!!!"
The blogger shared the awful comments to educate her viewers that while yes, there are incredible body positive warriors doing the daily work to empower women online, there are sadly, an equal number of trolls who want to undo that progress.
"It's scary that a woman who is almost the average size in this country would be regarded with such shock!" Sturino wrote. "Also, they don't stop at my body, they are equal opportunity women haters who take shots at [Meghan Markle] as well! Can't be thin. Can't be fat. Maybe STFU ABOUT WOMENS BODIES!!!!!"
https://www.instagram.com/p/B4tJ47GhzSE/
Sturino concluded her post with a rousing battle cry.
"There is a war on women's bodies in the media and beyond and we are making headway but this [shit] reminds me to stay bright and keep going," she wrote. "Nobody deserves to be spoken to like this, on or offline. We have work to do!!!!"
Grateful for women like Sturino and on that note, I need to hit that follow button.