Katy Perry And Orlando Bloom Got Engaged And Her Ring Is Stunning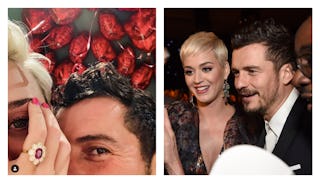 Image via Instagram/Katy Perry/Michael Kovac/Instagram
Katy Perry and Orlando Bloom got engaged on Valentine's Day
It's February 15 and while Valentine's Day is officially done, if you've still got a little love hangover, we have just the cure. Katy Perry and Orlando Bloom got engaged yesterday and shared a photo of her extremely unique and gorgeous ring on Instagram.
There. Day after Valentine's Day letdown cured.
Perry and Bloom are officially engaged after dating on and off since 2016. They met at a Golden Globes party that year and broke up briefly in 2017 before finally getting back together for good last year. Now? "Full bloom," as Perry's Insta caption reads.
Bloom shared the same snap with the caption "lifetimes" so I think it's safe to say these two are in it for the long haul. The flower-shaped ring is super unique featuring a bright pink stone in the center. It fits her sparkly style perfectly.
Some photos from their engagement party are going around and the couple looks extremely in love.
A month ago, Perry took to Instagram to do a little gushing about her man in honor of his 42nd birthday. "happiest 42nd birthday to the kindest and cutest man I've had the pleasure of spending time with," she writes. Awwwww.
It's all in the way they look at each other, TBH.
Though they've had their ups and downs, the couple still maintained a respectful and friendly vibe, even when they were no longer together. "We're friends, it's good," Bloom told ELLE UK back inMay 2017. "We're all grown up. She happens to be someone who is very visible, but I don't think anybody cares about what I'm up to. Nor should they. It's between us. It's better to set an example for kids and show that [breakups] don't have to be about hate."
A source told PEOPLE in March 2018 that the pair stayed in touch after breaking up. "In the past few months, they have spent a lot of time together. They both love traveling and are trying to share as many fun trips as possible," the source shared. "They are dating, but not necessarily putting a label on it. They are not girlfriend and boyfriend. They do seem very happy together though. Orlando always had the nicest things to say about Katy. He loves spending time with her."
For her part, Perry got pretty riled up at the rumors and speculation at one point tweeting "HOW BOUT A NEW WAY OF THINKING FOR 2017!? U can still b friends & love ur former partners! No one's a victim or a villain, get a life y'all!"
It looks like that friendship heated right back up, because now they're going to walk down the aisle. Many congrats to the happy couple.
This article was originally published on