Katy Perry Reveals Pregnancy And Adorable Bump In New Video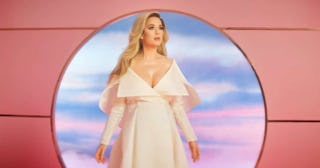 Katy Perry/Youtube
Katy Perry is expecting her first child and revealed the news in the music video for her new song "Never Worn White"
American Idol judge and pop star Katy Perry shared some pretty exciting news in the video for her new song "Never Worn White" — she's pregnant with her first child with fiancé Orlando Bloom. She looks stunning and future-momma-flowing in the vid,
Perry shared a clip of the video with the caption, "Let's just say it's gonna be a jam packed summer."
Appropriately enough, the song is all about Perry wanting to commit to someone (Bloom) for a lifetime of happiness despite her fears. A little snippet of the lyrics:
"Cause I've never worn white/But I wanna get it right/Yeah, I really wanna try with you," she sings. "No, I've never worn white/But I'm standin' here tonight/Cause I really wanna say 'I do."
Of course, she looks like a heavenly pregnant angel. Radiant AF.
Sounds like Perry is ready to do the momma and wife thing with Bloom, who is already dad to nine-year-old son Flynn with ex-wife Miranda Kerr. This will be Perry's first child.
https://www.instagram.com/p/B9UmNAXHGRZ/
For her part, Perry sounds super relieved to finally have the news out there. She took to Twitter and joked that she could now let it all hang out and stop making efforts to hide her growing bump. Girl, we've been there.
After the premiere of her video, Perry confirmed the big news during an Instagram Live session saying it's "probably the longest secret" she has "ever had to keep."
"I'm late," she said after promising she'd go Live after the video premiered. "But you already knew that." Perry says she's due this summer. "There's a lot that will be happening this summer, not only will I be giving birth — literally — but also figuratively to something you guys have been waiting for." Guessing she means the album, and that means her Insta caption is 100% correct — this is going to be a huge summer for the star.
She shared with fans that she and Bloom are "excited and happy" about their impending arrival noting that she's even experiencing wild pregnancy cravings. Perry shares that she "literally never cared for spice and now I have to carry Tabasco sauce in my purse." While spice is thrilling her, meat is now on her no-no list. "Foods that gross me out now are beef. I'm not really into red meat. Thank God for the Impossible Burger."
Bloom and Perry have been engaged for over a year with the singer originally sharing the news the day after Valentine's Day along with a photo of her gorgeous ring.
The couple recently celebrated the one-year mark of their engagement with a party.
Hopefully, Perry will share photos of their sure-to-be-adorable little one when he or she arrives this summer. Congrats to the happy family.