Hundreds Swarm Supreme Court To Protest Kavanaugh's Confirmation
by Thea Glassman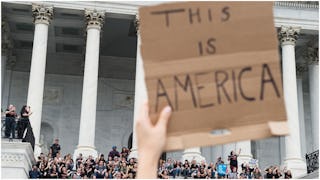 Image via ROBERTO SCHMIDT/Getty
Hundreds of people descended on the U.S. Capitol in protest of Kavanaugh's confirmation
On Saturday, Brett Kavanaugh was sworn in as a Supreme Court Justice. So, that was terrible, terrible news. The one glimmer of hope in this whole mess of darkness? Hundreds of people swarmed the U.S. Capitol to protest Kavanaugh's confirmation and loudly, bravely let their voices be heard.
Protestors shouted and chanted and touted signs all throughout Saturday. They protested in the Senate gallery when the confirmation process was happening, fists held high, chanting "I will not consent." They protested when Kavanaugh arrived for his swearing in, swarming the steps of the Supreme Court, yelling "Hey hey, ho ho, Kavanaugh has got to go." And they kept protesting once Kavanaugh entered the building, banging on the Supreme Court doors.
By Saturday afternoon, 150 people were arrested. Pictures from the scene show people being handcuffed and led off the steps, with their fists still in the air. The crowd stood in solidarity with them, chanting: "Arrest sexual predators, not protesters."
Protestors told news outlets that they were angry but optimistic. They found hope in their collective power and were already starting to look towards the future.
"I'm really very worried about women's reproductive right[s],"Alethea Shapiro, who traveled from New York to D.C. for the protest, told NBC News."But I'm really hopeful because I feel like this is a revolution. People won't understand the power and passion unless you're here."
Sen. Mazie Hirono (D-Hawaii) took to the podium and said that we have "a lot to be mad about." But, she added, "we need to take that anger, focus like a laser beam on the elections in 2018." The crowd also heard from Sen. Elizabeth Warren (D-Massachusetts), who spoke frankly and eloquently about the whole awful situation.
"Let's be clear about this," she said. "I am angry. I own it. I am angry, on behalf of women who have been told to sit down and shut down, one time too many."
People across the country took to Twitter to show their solidarity with the protestors and express their hope that the midterms will bring a blue wave.
https://twitter.com/jetpack/status/1048736072706846720
"It was hard not do feel depleted this morning. But I don't anymore," Sophie Ellman-Golan, Deputy Head of Socials and Outreach at Women's March, wrote on Twitter."This was inspiring. We're ready for this."