Girl With Autism Sings Rendition Of 'Hallelujah' That Will Bring You To Tears
by Valerie Williams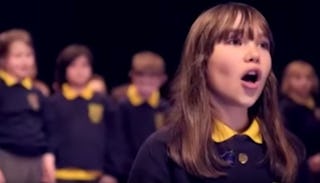 Image via Facebook
Ten-year-old's beautiful version of "Hallelujah" goes viral
A young girl stunned the internet this week by singing a Christmas version of the Leonard Cohen song "Hallelujah." Her gorgeous performance is winning hearts all over the world and once you hear it, you'll understand why.
She sounds like an actual angel.
According to the BBC, Kaylee Rodgers is a ten-year-old school girl from Northern Ireland with a love of singing. Her headteacher Colin Millar says, "She'd be a very quiet little girl, but when she sings, she just opens up."
A student at Killard House School since the age of four, Kaylee usually performs at the local Christmas concert held at First Presbyterian Church, Newtownards, but this year, she was sick that day. Instead, her headteacher played a video during the concert of the girl singing that was taken just weeks before at her school. It reportedly left many in the congregation in tears.
You might notice that Kaylee isn't singing Cohen's original lyrics but instead, an alternate version depicting the night Jesus was born penned by contemporary Christian rock band Cloverton. It went viral quickly after being uploaded to Facebook and YouTube and is now closing in on over a million views in just a few days.
Kaylee, who has autism and ADHD, seems to truly connect with music. The school's music instructor Lloyd Scates saw her talent and encouraged her to perform solos. Kaylee's mother Tracy tells BBC, "She always loved singing, but it wasn't until she started at Killard House School that she really came into her own. He's [Mr. Scates is] like her safety blanket – he's amazing."
Millar told ITV what meaning Kaylee's boldness in performing holds. "For a child who came in P4 and wouldn't really talk, wouldn't really read out in class, to stand and perform in front of an audience is amazing. It takes a lot of effort on Kaylee's part."
One YouTube commenter writes, "The fantastic thing about this video is that it's not just good because she's 10. And it's not just good because she's dealing with autism and ADHD. It's good because it's good ― really good." And while that's all true, the fact that Kaylee went from not feeling comfortable reading in class to singing confidently in front of crowds is incredible for anyone, but especially so with the challenges presented by her special needs. While her talent needn't be qualified by adding that she has autism, it is notable that she overcame obstacles to do something this extraordinary.
Millar sums it up perfectly telling the BBC, "She gets so much confidence from the singing. All my kids have talents, as well as barriers, and this is hers."
For Kaylee's part, she's pretty excited about her viral turn telling ITV, "It was really amazing how many views I got. I just loved doing it."
Which works out well, since we loved hearing it.