Keanu Reeves Leaves Sweet Note For Young Fans Because He's An Actual Angel
by Madison Vanderberg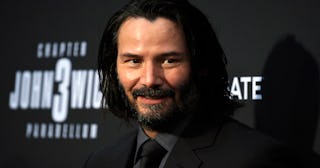 Frazer Harrison/Getty Images
Keanu Reeves surprised a family in Louisiana with a personal note on his way to the Bill & Ted set
Keanu Reeves is having a renaissance. Reeves enthusiasm is so high lately, there's even a petition to make him "Person of the Year," so it should come as no surprise that when Reeves saw a sweet note that a couple of fans wrote for him near the set of Bill & Ted Face The Music, he literally stopped by their house, signed an autograph, and hung out for a bit!
Stacey Hunt and her sons heard that Reeves was in Slidell, Louisiana to shoot the Bill & Ted sequel, so she thought it would be cute to welcome him to town with a sign. Hunt and her 13-year-old son made a yard sign that said "You're Breathtaking" in reference to Reeves' comment at the E3 gaming expo last month (he told the crowd "you're breathtaking" and naturally, the phrase became a meme).
A few hours after Hunt posted the "breathtaking" sign on the lawn, a car pulled up to Hunt's house. Who hopped out of that car, you ask? The man himself, Keanu "Breathtaking" Reeves.
"Wow! Yesterday was a dream come true!" Hunt shared on Twitter. "We knew [Keanu Reeves] was filming up the street so my son said we need to make a sign that says 'you're breathtaking' so we did! A few cars stopped but then a car stopped and there he was!! He actually stopped! Oh my heavens!"
Hunt asked Reeves if he would sign her poster (he wrote "Stacy, you're breathtaking"), and take a photo with the family. Naturally, the internet's boyfriend did both, plus Hunt said he lingered a bit and talked about Bill and Ted and The Matrix.
Here's a better shot of Reeves' handwriting (courtesy of Bill and Ted screenwriter Ed Solomon), in case you wanna zoom in and pretend Reeves wrote you a note. Listen, we don't judge.
Apparently, the entire neighborhood is fired up for Reeves' appearance on their block. Some neighborhood kids even stopped by the set with homemade beignets.
But back to Reeves and his sign. Hunt said the interaction confirmed everything the internet has told her about Reeves, which for those playing along at home, is: He is sexy (see: his cameo in Always Be My Maybe). He is funny and family-friendly (see: his voice role in Toy Story 4). He loves animals (see: his Buzzfeed puppy interview). He is respectful (see: his photos with female fans).
"What you read about him being such a great person with a great heart is true," Hunt told CNN. "At least that's what I think from my few minutes with him."
Reeves is a private, poetic, affable, emotional intelligent modern-day prince and naturally, the world has absolutely no choice but to stan. BRB while we pack some poster board and book a flight out to Louisiana.