Keanu Reeves Is Dating A Woman His Own Age And The Internet Is Loving It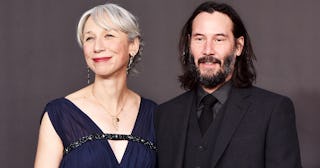 Axelle/Bauer-Griffin/Getty
The internet is obsessed with Keanu Reeves showing off his perfect, age-appropriate girlfriend
Oh, Keanu Reeves. He's literally the least problematic man in Hollywood and everything about him is utterly delightful. Including the fact that he showed up to a red carpet event this week holding hands with his new girlfriend — who is a successful artist within his own age bracket. And the internet is exploding over it.
It's likely everyone is just startled at the sight of a leading Hollywood man happily content with a woman over the age of 25 (*cough* Leo *cough*). Reeves, who is 55, stepped out with Alexandra Grant, 46, at the LACMA Art + Film Gala in LA over the weekend, and the pair looked absolutely fantastic.
According to PEOPLE, the two have been friends and collaborators for a long time. They've worked together on Reeves' books Ode to Happiness and Shadows — Grant provided the illustrations for the books. The two also founded a publishing house, X Artists' Books, back in 2017.
And now it appears they are in true love, and it's perfect in every way. When the images of Reeves and Grant hit Twitter, the news was well met with tons of reactions.
Also, if you looked at these photos and immediately though Keanu Reeves was dating Helen Mirren, you are not alone. Which also would totally rock, tbh.
But mostly everyone is just extremely here for Keanu Reeves, Literal Angel, dating the hell out of a brilliant, beautiful woman with stunning silver hair and possibly a few crow's feet. Because that is NORMAL and women are allowed to age and be desirable at the same time! Imagine that!
In 1999, Reeves and his then-girlfriend, actress Jennifer Syme, were expecting a child together. Tragically, the baby, a girl named Ava, was stillborn. The grief from the loss reportedly led to their break-up, and in 2001, Symes died in a car accident.
"Grief changes shape, but it never ends. People have a misconception that you can deal with it and say, 'It's gone, and I'm better'. They're wrong. When the people you love are gone, you're alone," Reeves said in a 2006 interview with Parade magazine. "I miss being a part of their lives and them being part of mine. I wonder what the present would be like if they were here – what we might have done together. I miss all the great things that will never be."
2019 has been a lot of things, many of them decidedly Not Great, but it's been a wonderful year for Keanu Reeves' career and his fans. His hilarious cameo in Netflix's Always Be My Maybe became an instantly classic pop culture moment. He's also starred in Toy Story 4, John Wick 3, and Between Two Ferns.
And now he's holding hands with a beautiful woman on a red carpet and honestly, his happiness is everything.
This article was originally published on