There's A Petition To Make Keanu 'Person Of The Year' And TBH, He Deserves It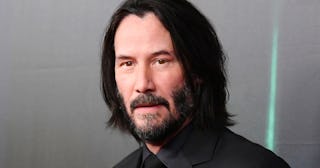 Mike Coppola/WireImage/Getty
We are all very much here for Keanu Reeves' shining moment in history
Keanu Reeves is really having A Moment, isn't he? Well, more like 25+ years of moments, if we count his long-spanning career and success. But there seems to be some sort of Keanu resurgence happening and it's so well-deserved. Tens of thousands of fans of his seem to agree, because they've all signed a petition to make him TIME magazine's "Person of the Year."
Thanks to recent roles in hit movies like John Wick 3 and Netflix's Always Be My Maybe, not to mention Toy Story 4 (so your kids can love him as much as you do), Keanu Reeves has basically become the internet's boyfriend.
Amid all the Keanu hype came a Change.org petition, created last week, to "Make Keanu Reeves 2019 Time's Person of the Year." Currently, over 50,000 people have signed it.
"Keanu is the most wholesome person alive, make him the person of the year!" the petition states. "Keanu has secretly donated millions of his earnings to children's hospitals and other charities, and has done amazing things for people in public while asking for nothing in return."
Listen, if TIME magazine is looking for the perfect, non-problematic celebrity poster boy to honor this year — Keanu is it. What a palate cleanser that would be after a horrifically depressing year (yes, it's only June, but the happy news compass for 2019 is permanently pointing due south).
TIME has historically chosen relevant social and political figures as their persons of the year. In 2018, Time named four journalists and a newspaper as "guardians" in "the war on truth" as its Person of the Year. In 2017, the magazine honored the "Silence Breakers," also known as the legions of women who came forward as the faces of sexual harassment in the workplace.
But let's not forget they also named Donald Trump Person of the Year back in 2016. He was so tickled by this that he assumed he was going to win again in 2o17, which he absolutely did not. So yeah, Keanu is looking like an excellent choice by that comparison alone.
It would probably make almost every single person on the internet squeal with joy, as Keanu Reeves has recently become the most GIF-able, meme-able human on the planet. If you can't wait until December to find out if he's The Chosen One, here's something undeniably amazing to hold you over: Keanu Reeves playing with puppies.
The actor stopped by BuzzFeed last month to chat a little about John Wick, but while being lovingly attacked by a pack of sickeningly cute puppies. And I ask: is there anything better than Keanu Reeves, with his dulcet tones and kind eyes, patiently answering questions while cuddling baby dogs?
NOPE.
Now go add your name to that petition like a good citizen should, and curl up with Always Be My Maybe for the night.