Here's Keanu Reeves Slo-Mo Walking To Different Songs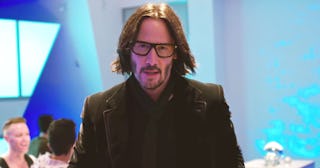 Netflix/Youtube
Keanu Reeves can make a slo-mo entrance to literally any song
If you haven't seen Netflix's buzzy new rom-com, Always Be My Maybe, stop reading and go do that right now. OK, maybe finish reading first, because there are no major spoilers here. But seriously, watch that adorable movie. And if you have seen it, we're sure you remember Keanu Reeves' entrance for his extremely memorable cameo, which involved him slow-motion walking into a scene set to the song "Sail" by Awolnation. It deserves every award, TBH — it's just a surreal, hilarious scene.
Reeves plays one of lead character Ali Wong's love interests in the movie, and it's one of the greatest performances of his life. But that slo-mo entrance scene is what the internet has fallen in love with. Now Keanu has gotten the meme treatment in a way we are absolutely here for.
Some genius Twitter user created an account called "Keanu Reeves walking to music," and it is literally just that. This genius has taken that slo-mo entrance scene from Always Be My Maybe and set it to a bunch of other songs, running the gamut from the Beach Boys to Shakira. And um, it turns out it's just as hilarious or even more so no matter what song is playing as Keanu makes his grand entrance.
Seriously, check these out.
After hitting play half a dozen times, you might expect a meme to start to lose its charm. But not this one. We're still cackling after watching roughly two dozen of these. Here, have some more.
It just truly does not get old. Whoever came up with this is the hero we both need and deserve right now.
This one is my personal favorite, in case anyone was wondering.
I die.
There are even more posted to the account, and new videos seem to still be going up pretty regularly. And whoever is running the account takes requests, so if you've ever wanted to see Keanu Reeve walk in slow motion to your favorite song (even if you never knew you wanted that until right this moment, that's fine) now is your chance. Send it on it.
Also, in case this isn't clear already, go watch Always Be My Maybe if you haven't already. It is the perfect treat you deserve. You're welcome.
And if you need more Keanu Reeves in your life (because let's face it, we all need more Keanu Reeves in our lives), check out this video of him snuggling puppies while answering fan questions. And make sure to catch him in Toy Story 4 when it hits theaters later this month. The guy is on fire. His meme is fire. God bless Keanu.
This article was originally published on