Sheriff's Office #KeepDancingOrlando Tribute Goes Viral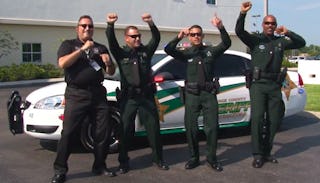 Sheriff's Office In Orlando Participates In ‪#‎KeepDancingOrlando‬ Challenge
Weeks after 49 people were killed at Pulse nightclub in Orlando, Florida the local Sheriff's Office has participated in the #KeepDancingOrlando challenge and released a video aimed at lifting spirits.
A group of residents created the original video that features "I Wanna Dance with Somebody (Who Loves Me)" by Whitney Houston and Orlando landmarks like the University of Central Florida, Orlando Science Center, and another popular gay nightclub, Parliament House to help raise money for the victims of the shooting.
"We were challenged by local organizations and Sheriff (Jerry) Demings thought the video would be a good way to lift spirits during this difficult time," Orange County Sheriff's Office Spokeswoman Jane Watrel told Scary Mommy. "The agency response was incredible. Sheriff Demings sent an agency-wide email thanking the hundreds of employees who turned out to dance in the video."
Orlando was rocked by the early morning mass shooting that is now considered the deadliest in recent American history. Omar Mateen allegedly killed 49 people on June 12. As the FBI continues to investigate the shooter's motivate, Orlando residents have tried to balance their grief with their efforts to honor the victims. "It has been a combination of sadness and disbelief, with incredible acts of kindness and love," Watrel shared. "The community has bonded as we try to heal and honor the victims."
Watch the video from the Sheriff's Office below.
Some of the law enforcement officials featured in the #KeepDancingOrlando video worked that terrifying day. "Many deputies were first responders providing assistance the night of the Pulse shooting, while others lost friends that terrible night," Watrel shared. "It came about as a way to channel positive energy and honor the 49 victims of the Pulse tragedy by dancing in tribute to their memories."
The original video and the one created by the Sheriff's Office have both gone viral as various organizations in and outside of Orlando have jumped in and created their own. The Orlando City Soccer Team and the Denver Broncos Cheerleaders are just two examples. As far as other police and politicians, the Sheriff's Office has challenged its partners at the Orlando Police Department and City of Orlando political figures to create their own #KeepOrlandoDancing videos.
The men and women who worked tirelessly to save lives that horrific night remain dedicated to helping their community recover from this tragedy. "The video was a labor of love that the Sheriff hopes will lift the community's spirits and let people know how much the OCSO cares," Watrel shared.
Watch the original video below.
This article was originally published on