This Mom Was Sent To Jail For Trying To Get Her Kids Into A Better Public Grade School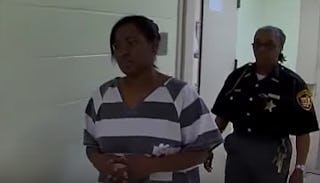 Image via YouTube
She falsified her address and paid dearly for it — let's see if the system treats white, wealthy people the same way
Amid the scandal surrounding all the white, rich, famous mothers and fathers who scammed the collegiate system by paying their kids' way into a higher education, the case of Kelly Williams-Bolar is resurfacing. She falsified her address to get her kids into a better school — but she's a black mother, not famous, and not wealthy. And she was jailed for it.
Williams-Bolar served nine days in jail back in 2011 after she was found guilty of using her father's mailing address instead of her own so her two daughters could enroll at a better school district. She wanted a better option for them than the Akron, Ohio district they were supposed to attend.
After serving her jail time, she was put on probation for three years and was required to complete 80 hours of community service. "It's overwhelming. I'm exhausted," she told ABC at the time of her sentencing. "I did this for them, so there it is. I did this for them."
Lying about residency is actually somewhat common when it comes to families and school districts all over the country. I personally know a few families that did this for the same reason Williams-Bolar did, or to have their children attend schools with better athletic programs. But most parents don't serve jail time for it.
In addition to the class differences, it's also impossible to ignore the racial discrepancies between cases like Williams-Bolar's and the families embroiled in the current scandal. Her story is now resurfacing after more than 40 people were charged in the current college enrollment scandal where wealthy parents like Felicity Huffman and Lori Loughlin got caught by the FBI for paying thousands of dollars to get their children into elite colleges.
Many social media users were quick to mention Williams-Bolar's case and others like hers this week.
Falsifying a residential address so your kids can go to a better elementary or high school is not at all the same thing as bribing admissions counselors and coaches with half a million dollars to let your mediocre kids have a shot at getting into a well-known university for a sport they've likely never even watched, let alone participated in.
Falsifying a residential address is not at all the same thing as paying tens of thousands of dollars to make your daughter fake a learning disability in order to get special SAT treatment for a better shot at getting into an elite university.
The school district that eventually caught Williams-Bolar hired a private investigator to look into the matter. Once she was caught, the district ordered her to pay $30,000 back in tuition. When she didn't comply with their request, she was indicted on felony charges and then sentenced.
"I don't think they wanted money," Williams-Bolar said at the time. "They wanted me to be an example."
She's likely not wrong. How about we make sure the wealthy, white, privileged people become legal examples then, too?
This article was originally published on