These Frosted Flakes Are Here To Remind Us Nothing Can't Be Ruined By Pumpkin Spice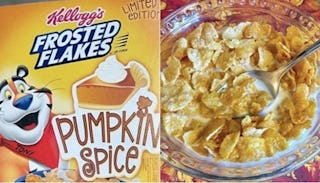 Image via Instagram/junkfoodmom
Pumpkin Spice Frosted Flakes exist and the reviews are mixed
Put on your beanie, chunky sweater, leggings, and whatever else goes along with the pumpkin spice experience (for the record I enjoy all of the above). Kellogg's has released a new line of Pumpkin Spice Frosted Flakes, which means Starbucks might just get a run for its money. It's gonna be a very #basic fall season, y'all.
The limited edition cereal will be released in September, and retails at $4.29. "New Kellogg's Pumpkin Spice Frosted Flakes has a warm pumpkin spice frosting that coats golden, crunchy toasted flakes," a representative from Kellogg's told TODAY. "This tasty cereal has caramelized pumpkin aromatics delivering brown sweet cinnamon and a touch of allspice and ginger."
I mean, sign me up immediately please.
https://www.instagram.com/p/BkMCr1-n4st/?utm_source=ig_embed&utm_campaign=embed_loading_state_control
Some shoppers have already gotten a chance to try a sample before the boxes officially hit shelves and their reviews are…mixed. Instagrammer JunkFoodMom gave the new line a 10/10, writing: "Same Sweet delicious Frosted Flakes with a touch of pumpkin spice that's not overbearing but there in every spoonful. These have rekindled my interest in pumpkin flavored Everything."
Another customer was a little more torn.
"1st scent you get a strong pumpkin spice essence(yass), the taste(without milk) is very sweet with a hint of a pumpkin puree/cinnamon vibe.. however there is a spice after taste that leaves your mouth sizzling a bit.. (with milk)sugary pumpkin flavor, spice is very limited," Instagrammer Markie_devo wrote. "I am on the ropes with this one, not really feeling it as much as I expected and I love pumpkin spice(totally basic on the inside)."
He gave the cereal a 6/10 without milk and a 10/10 with milk. That's fine because what madwoman is eating cereal without milk?
https://www.instagram.com/p/Bjkz2nMHGFC/?utm_source=ig_embed&utm_campaign=embed_loading_state_control
Side note: I did not know that cereal reviewing was a thing and now that's all I want to do.
If frosted flakes aren't really your cup of tea, but you want to get into the pumpkin spice spirit, there are plenty more foods that will give you that experience (though some of them are also limited edition and/or seasonal). Like, hello Pumpkin Spice Oreos.
https://www.instagram.com/p/BZEaThqhZXN/?tagged=pumpkinspiceoreos
And hellloooo Pumpkin Spice Milanos.
Don't be ashamed to live your best pumpkin spice life, especially if it involves tasty snacks. Ugg boots not required.