Kelly Clarkson Flown To Surgery After Hosting Billboard Awards
by Thea Glassman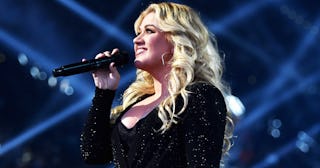 John Shearer / Getty
Kelly Clarkson got her appendix removed the morning after the Billboard Music Awards
We can all agree that Kelly Clarkson has officially unlocked superhero status. The singer was suffering from appendicitis and still managed to host the Billboard Music Awards this week. She opted to get her her appendix removed early the next morning, giving new meaning to "the show must go on."
BuzzFeed reporter Jarett Wieselman announced the news on Twitter, causing Clarkson fans everywhere to love her a whole lot more (if that's even possible). "Kelly Clarkson has been suffering from appendicitis all week & had her appendix removed this morning — yet last night she flawlessly hosted an award show and sang two songs without showing any sign of discomfort," Wieselman tweeted. "How could you do anything BUT STAN?!?"
Never been one to endorse the word "stan" but, yup, gonna have to fully stan.
Clarkson admitted that it was definitely a difficult experience but she's doing just fine in the aftermath. "Not gonna lie…. I may or may not have broken down in tears after the show from pain," she wrote. "BUT thanks 2 all the amazing people @ Cedars-Sinai I flew home directly after the event, nailed the surgery early this morning, & feeling awesome now! Bye bye appendix."
Her fans were fully in awe of the fact that Clarkson had freaking appendicitis, decided to still take to the stage, and managed to perform her butt off.
https://twitter.com/jetpack/status/1124100472594489344
If you need further proof of her legend status, check her out slaying "Broken & Beautiful" during the awards show.
And looking completely glittery and sparkly and fabulous while she was at it.
Clarkson has been very open and honest about how tricky the balancing act of her job can be – particularly when it comes to raising kids.
"It's hard to be a really good mom and a really good person at your job," she told Southern Living. "I don't want to be one of those pop star moms that doesn't see their (kids). … I want to be there. I'm not going to be able to be there for everything, and that's OK, because I'm showing my daughter and my son and our kids that you can do both and achieve great things."
Here's to many, many more fire performances from Clarkson, hopefully none of which involve an infected body part.