Kelly Clarkson Uses Billboard Award Speech As A Call To Action On Gun Violence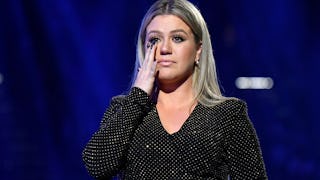 Image via Getty Images/ Jeff Kravitz/FilmMagic
Clarkson paid tribute to Santa Fe victims by calling for action
Last week, ten innocent people were killed when a gunman entered Santa Fe High School and opened fire. It's a narrative that, unfortunately, has become all too familiar. We see the breaking news announcements and it seems as a nation, we've resigned ourselves to thinking, "there's another one." At last night's Billboard Music Awards, Kelly Clarkson opened the show by calling out the fact that those thoughts, prayers, and moments of silence don't really amount to anything. We need to do so much more.
"I'm a Texas girl and my home state has had so much heartbreak over this past year. And once again, y'all, we're grieving for more kids that have died for just no reason at all," Clarkson, the host of the show, told the audience. She said she was supposed to stand up and offer a moment of silence for the victims and their families, but she, like most of us, is sick of reacting passively to these horrific events. So she decided to use her platform to implore people to act instead.
"I'm so sick of moments of silence," she said through tears. "It's not working, obviously, so why don't we not do a moment of silence? Why don't we do moment of action? Why don't we do a moment of change?"
This most recent school shooting (which is a sentence that should never, ever have to be written) at Santa Fe High School marks a year in which deaths from school shootings are officially higher than the deaths in our military. And it's only May. "Thoughts and prayers" and "love and support" are doing absolutely nothing. This is unacceptable.
The singer/songwriter continued, "Why don't we change what's happening? It's horrible. Mamas and daddies should be able to send their kids to school, to church, to movie theaters, to clubs. You should be able to live your life without that kind of fear," she said. "We need to do better."
Santa Fe wasn't the only school being remembered during last night's show. Performers Shawn Mendes and Khalid were joined onstage by members of the Marjory Stoneman Douglas Show Choir.
Clarkson, like all parents, says she can't imagine getting the call that one of her kids' schools has been targeted. Sadly, this is a call that so many American parents receive and it has to stop. Change has to happen because what we're doing isn't working.
"We need to do better," Clarkson said. "Because we're failing our children. We're failing our communities. We're failing their families."
This article was originally published on