Kelly Clarkson's Honest Take On Pregnancy: 'Nothing Is Beautiful'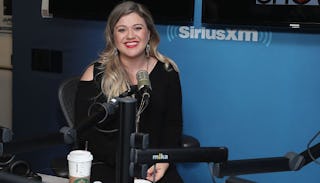 Image via Cindy Ord/Getty Images
Singer Kelly Clarkson gets refreshingly real about not liking pregnancy
Singer Kelly Clarkson is two and through. The singer and first "American Idol" winner was on Jenny McCarthy's Sirius XM show this week and revealed that she and husband Brandon Blackstock are both "fixed." She also gave her honest thoughts on pregnancy and how it's not all rainbows and sunshine.
Clarkson, mom to 2-year old River Rose and her new baby brother Remington, says the decision to sterilize was made right after she gave birth to her son in April of this year. Clarkson does not hide the fact that both of her pregnancies were difficult. In the video interview she said, "It's horrible. Nothing is beautiful, nothing is magical. Whatever, you're that person that gets that pregnancy, good for you. I will remind my children every day of their lives what I (went through)."
Hallelujah. When I used to say similar things about both of my pregnancies people would gasp, and then act like I said the most hideous thing on the planet. How dare she?! It's OK women, we don't have to love being pregnant. Finally, moms are coming out and saying pregnancy isn't always this glowing, fantastic event. Sometimes being pregnant is really hard to the point that it makes a woman not want to go through it ever again.
"I was literally pregnant with Remi, and I was like, 'You are getting fixed. This will never happen to me again," the 34-year-old told McCarthy. "If something happens, it's a miracle of God."
Clarkson made sure she got the proper "fixing" right upon delivery. If you have a C-section, most doctors upon request will perform a tubal ligation while you're already opened up. "I literally told them on the (delivery) table, 'You make sure this can't happen again!'"
If her first pregnancy was so bad, then why did she do it a second time? Plain and simple, she didn't want River to be an only child. She wanted her to have a buddy her age. Never in a million years did Clarkson think her second pregnancy could be worse than the first – until it was. To which, I offer my solidarity. Same here sister, which is exactly why my husband is also fixed.
McCarthy at one point asked her if Clarkson and her husband were both "fixed." Clarkson responded excitedly, "Yes."
And to that we say, cheers. Being confident in that choice is an amazing feeling.