Kelly Clarkson Shares First Photos Of Her Adorable Baby Boy
by Jerriann Sullivan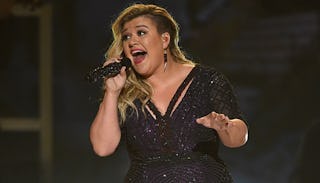 Ethan Miller/Getty Images
Kelly Clarkson introduces baby boy to the world on Twitter
Kelly Clarkson recently welcomed her adorable son Remington Alexander Blackstock to the world! And now we know exactly how adorable he is, because she's shared the first photos of him on social media.
Remington was born on April 12 in Nashville, Tennessee. Clarkson and husband Brandon Blackstock also have a daughter, River Rose, who seems to be adjusting to the role of big sister just fine. "I have the coolest kids, most helpful / loving family, and it would be impossible for me to be happier," Clarkson wrote a days after Remington's birth. She went on to say that she's filled with love and "wants everyone to have this!"
The singer has shared many photos of daughter River Rose with the world so it was just a matter of time before the mom introduced us to Remington. Their daughter is just 22-months-old so the joyful parents get to experience raising two under two.
Clarkson first announced her pregnancy in August during a concert in Los Angeles at the Staples Center. She was incredibly emotional during the show and decided to tell the audience why so they didn't worry about her. "I was not planning on announcing this but I'm totally pregnant," she told the crowd of fans. "I didn't want you to think I was on pills or something! Everything is great. I haven't vomited yet, that's a win!"
Clarkson's second pregnancy and delivery both went smoothly. "Our little baby boy has arrived," Clarkson tweeted the day baby Remington was born. "He is healthy & we couldn't be happier or more in love!"
The American Idol alum shared photos of the newborn on Twitter and Instagram on Saturday night. He is being held by his dad with a sweet smile on his face in one shot. The other photo shows Clarkson holding him and giving him a kiss on his forehead while he rests swaddled in a blanket.
Their family now totals four kids. Clarkson is step-mom to Blackstock's two children, Savannah and Seth, from his previous marriage. The pair have known each other for years as Narvel Blackstock, Brandon's father, is Clarkson's manager. The singer said she never thought of him in a romantic way, though, until they reconnected after her 2012 Super Bowl performance. The got married the following year.
The photos shared on Saturday were taken by Koby and Terilyn Brown of Archetype, a Texas-based photography company. The Browns also shot Clarkson and Blackstock's wedding.
We've all long loved Kelly for her open and honest nature — who didn't sob when she sang about her difficult relationship with her father on a recent episode of American Idol? She's overcome so much and now, has a very happy life with her husband and kids. She deserves every bit of joy that comes her way, and we're so glad for her.
Congratulations to Kelly and her family!